White Mountain Trucking Finds Operational Advantages with Latest Kenworth T680s
From operating a family-owned sawmill in Northern Arizona to becoming a leading flatbed service provider in the Western United States, White Mountain Trucking has become a reputable company in a relatively short period of time.
Before White Mountain Trucking became what it is today, Stephen Ray (co-owner of the company) grew up working on his family's sawmill and riding around in his dad's logging truck. At an early age, Ray gained an interest in the trucking side of the business and later co-founded White Mountain Trucking in 2012 with his brother-in-law David Arbizu to service the sawmill and expand into other markets, like hauling steel products.
When the Laveen, Arizona-based company first opened for business, it operated 12 trucks used primarily to transport lumber products from its sawmill to retailers throughout the Southwest. In 2015, the company added flatbed hauling to its list of services and began working with a local division of a global steel manufacturing company. It was a business decision that has proven to be a success.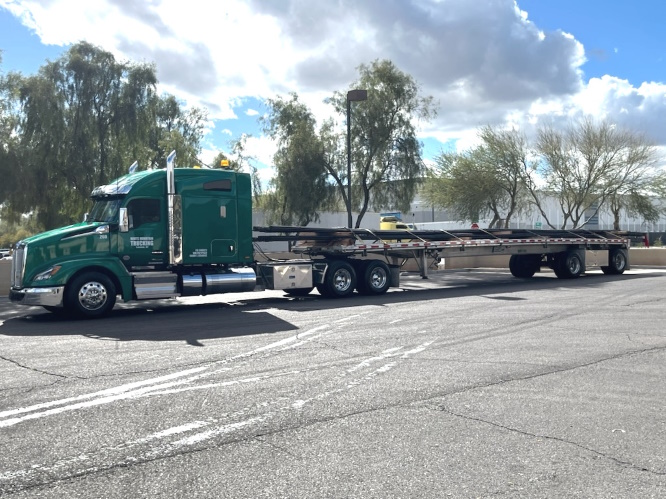 "We noticed that the steel manufacturer operated Kenworth aero trucks with a set-back axle configuration. This allows several extra feet of space for products to hang over the front of the flatbed trailer, while reducing the number of feet hanging off the back of the trailer," said Scott Carroll, White Mountain Trucking maintenance manager. "This specification is especially useful when hauling long products, such as rebar. If it's too long, trucking companies must apply for permits before they can begin transport. That takes time, plus the truck can't run at night. Running legally without needing these permits makes delivering to a customer much more efficient."
Since White Mountain Trucking was already operating Kenworth long hoods at the time and was happy with the quality of its trucks, adding Kenworth T660s with the set-back axles back in 2015 made sense. The set-back axle has been a standard configuration for all the company's Kenworth aero models since. Carroll claims it gives the company a competitive advantage over other flatbed providers and has helped the company grow its flatbed division and become a trusted service provider.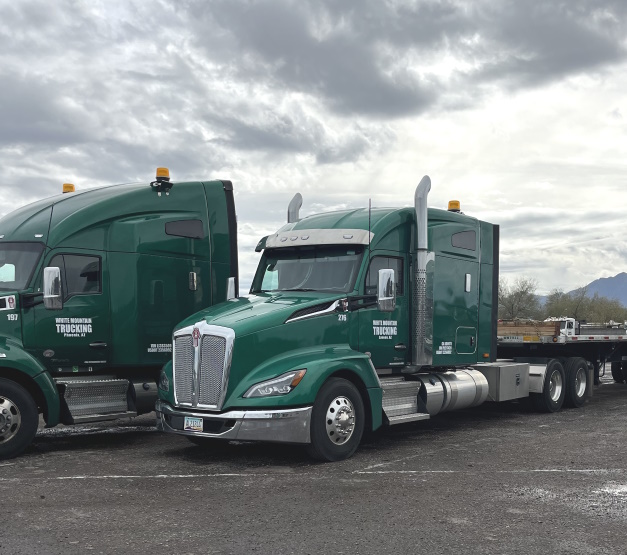 As a result of this business, White Mountain Trucking expanded its fleet in the past 10 years from just a few trucks to more than 130 trucks today, most of which are the latest Kenworth T680 model and classic T680 model. In 2022, White Mountain Trucking purchased 25 T680s with 76-inch sleepers, 450-hp engines and a mix among 12-speed automated and 13-speed manual transmissions. Those trucks are primarily used in flatbed operations. White Mountain Trucking works with trucks salesman Glen Takacs of Inland Kenworth – Phoenix on new Kenworth truck orders. The company expects to receive 25 more T680s in 2023.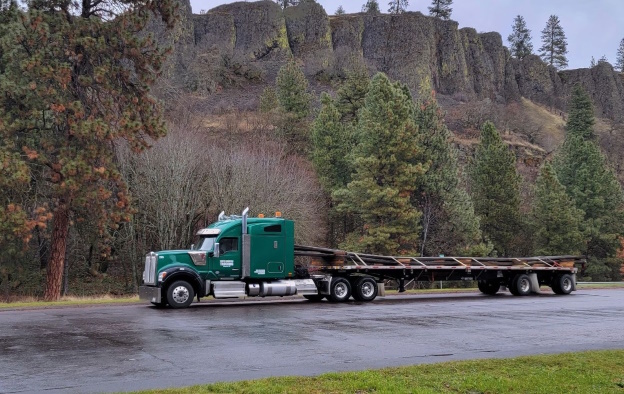 The fleet also operates five Kenworth W990s purchased in 2020 to mainly haul walking floor trailers and transport sawmill products, such as wood chips and sawdust, as well as other bulk goods including mulch, horse bedding and feed.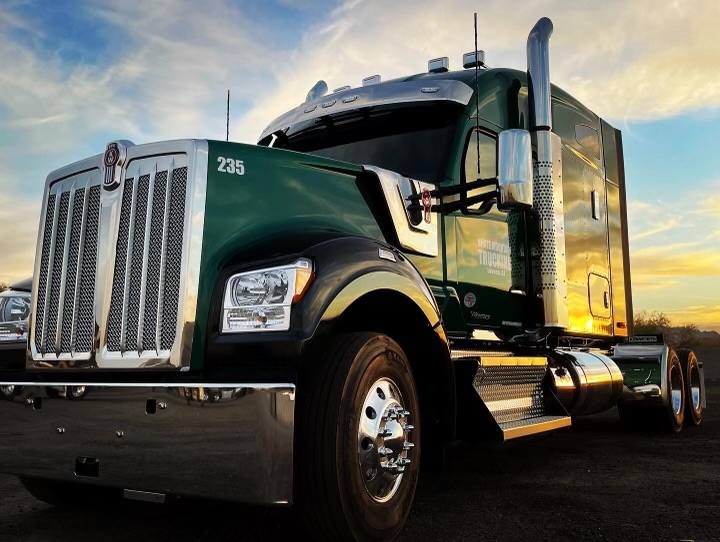 According to Carroll, White Mountain Trucking has seen some significant differences between its newest T680s and its classic T680s.
"We've seen roughly a mile per gallon improvement in fuel economy* difference between the newer T680 and classic T680," said Carroll. "We believe that's due to the T680's more aerodynamic design combined with the new model year engine. The rest of the specs between the newer T680s and the classic T680s are the same. It's making a huge impact in our ability to reduce our fuel expenses, which isn't something you would expect to see as a flatbed carrier."
In addition to fuel economy improvements, Carroll said the T680's ample storage, roominess and cab layout are other upgrades noted by the company's drivers over other trucks they have driven.
With White Mountain Trucking operating Kenworth trucks for more than a decade now, the reliability of its trucks and assistance from Inland Kenworth – Phoenix have been key in its continued relationship with Kenworth.
"We can rely on our Kenworths to get the job done with minimal downtime. We're able to keep our trucks on the road delivering to our customers. When the time does come to trade in or sell our trucks, we've been pleased with the resale value we get from our Kenworths. Glen (Takacs) has been a tremendous help over the years in working with us on truck orders that best meet the requirements of our operation."
While keeping customers happy through reliable customer service is key to a successful business model, so too is keeping drivers that complete the deliveries. With driver retention and recruitment a top concern for many fleets, White Mountain Trucking isn't afraid to address the industry-wide problem head-on. The company provides drivers with weekly bonuses, layover and detention pay, benefits packages, new driving equipment, and more.
"The combination of driver benefits, pay and new trucks we provide helps in our efforts to retain our drivers and appeal to those looking for new driving opportunities," said Carroll. "Operating new, high-quality equipment definitely helps on this front. We take pride in our trucks and so do our drivers. They want to be in equipment that is comfortable and enjoyable to drive. We also want to promote our brand as a quality service provider to potential and existing customers, and our trucks help us portray the image we're looking for in today's market."
Kenworth Truck Company is the manufacturer of The World's Best® heavy and medium duty trucks. Kenworth's Internet home page is at www.kenworth.com. Kenworth is a PACCAR company.
*Individual fuel economy improvement will vary depending on use, road conditions, and other factors.