Tribe Transportation Achieves Low Driver Turnover, Increases Fuel Economy with Kenworth T680s
Native American-Owned Company Eyes Fleet of 500 Tractors
In an era with an acute driver shortage, Tribe Transportation is in an enviable position. Its turnover rate is a mere 28 percent, well below the industry average of about 100 percent.
 
Based near Atlanta, Tribe Transportation operates 158 long-haul tractors and has its eyes set on the 500-tractor mark within five years. "We're on pace and continuing our planned stepped growth. We added 60 Kenworth T680s in 2014 and plan to add 70 to 80 T680s a year in the foreseeable future," said Matt Handte, executive vice president for Tribe Transportation. "We're actually renting some trucks right now because we have drivers coming on board to fill the seats. Not many companies have that luxury."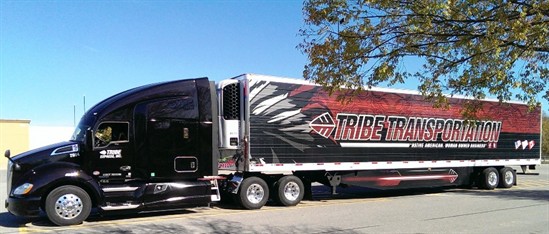 Tribe Transportation's low driver turnover is aided by the purchase of premium Class 8 trucks with driver-friendly features. The company has now standardized on Kenworth's T680 with 76-inch sleeper, which helps keep and attract drivers, Handte said. For its T680s, the company specified comfortable Kenworth proprietary seats, pocket coil mattress on the liftable lower bunk, and foam mattress on the upper bunk. The T680 sleepers include a drawer-style refrigerator, sturdy rotating table, Kenworth's TV installation package, and room for a microwave.
 
"I first saw the T680 at the 2012 Mid-America Trucking when it was first unveiled," recalled Handte. "I talked with Preston Feight (Kenworth assistant general manager for sales and marketing) and his enthusiasm for the T680 was contagious. He was very passionate about how the truck was engineered from the ground up and designed with drivers in mind. He showed me every detail and that stuck with me as I looked at other trucks at the show. I didn't see anything that compared to the T680."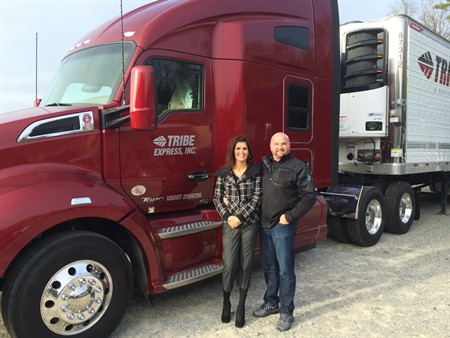 From left, Tribe Transportation President Carla Joy Cain and Executive Vice President Matt Handte are shown in front one of the company's trailers that are transported by Kenworth T680s. The company also operates Tribe Express. The married couple enjoys working together.
Once the T680 was production-ready, Handte said MHC Kenworth - Gainesville, came out with a Kenworth T680 demo unit so drivers could perform test drives and look at the interior appointments. "They were very positive and shared the same enthusiasm as I had," said Handte. "We placed an order."
 
Since Tribe Transportation began the move to the T680 - along with adding trailer side skirts and trailer tails - it's seen a jump in fuel economy from the mid-6s with another aerodynamic truck model and non-aero trailer, to 7.8 to 8.0 mpg with the Kenworth T680 and aerodynamic trailer.
 
"With the amount of miles we drive - about 250,000 miles average a year with our driver teams, and 125,000 for solos, that's making quite an impact," said Handte. "On the driver team units alone, each T680 and aero trailer are saving us about $34,000 a year in fuel."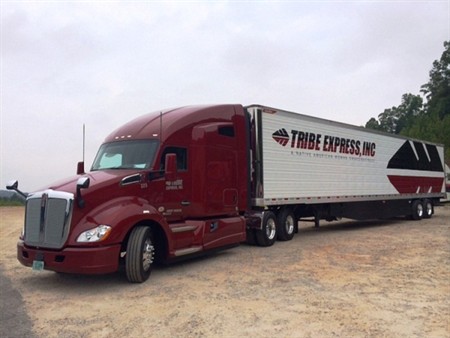 Tribe Express, a transportation arm of Tribe Transportation, also operates Kenworth T680s.
Tribe Transportation's T680 76-inch sleepers feature PACCAR MX-13 engines, rated at 455 hp. The T680s currently in operation are driven through Eaton's UltraShift® Plus automated transmissions with future T680s to be specified with the new Eaton Fuller Advantage series.  The cab features the Kenworth SmartWheel® steering wheel, Kenworth Driver Performance Center, and Kenworth radio (AM/FM/WB/CD/USB) with high performance speakers, Sirius-XM Satellite and enabled Bluetooth.
 
With a shortened trade cycle, Handte said Tribe Transportation will be fully standardized on the T680 within a few years. "We have a shorter trade cycle than others in the industry, so we're always offering drivers newer equipment to drive - which they like. And it provides our customers with very reliable equipment, and for us, everything is under warranty. We have a saying that quality attracts drivers, and reliability attracts customers. It's very true in our case," he said.
 
"Our growth is predicated on our high service level, along with our platform as a certified minority carrier," Handte said. "Many of the country's top companies want a percentage of their business going to minority businesses and it's allowed us to capture some of that work with leading companies, such as General Mills, Mars, Wrigley, PepsiCo, and Unilever."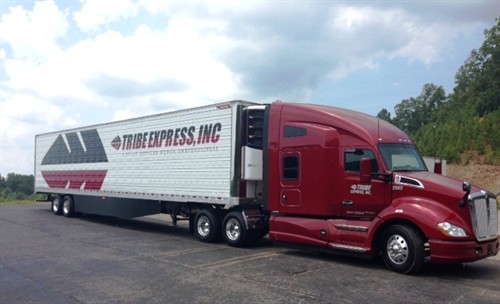 Tribe Transportation began as a 3PL company in 2005, but started its own transportation arm, Tribe Express, with five trucks in 2010. Carla Joy Cain, who serves as president, incorporated the Native American woman-owned business, working alongside her husband, Matt Handte. Handte said he is aware of only one other Native American trucking company in the United States, "and it's a small one," he said. "We're pretty unique in the transportation industry."
 
Its main niche in the trucking industry is specializing in deep-frozen (minus 20 degrees) and temperature-controlled transportation with single and expedited driver team service. The company has LTL and truckload services throughout the lower 48 states.
 
While Handte said the Kenworth T680s are a big contributor to the company's miniscule turnover rate, so too is its family-like atmosphere. "We have a culture based on our Native American heritage," said Handte. "We employ quite a number of minority drivers and personnel as part of our Tribe family as we embrace our Native American heritage - my wife is a member of the Eastern Band of the Cherokee Indians. We appeal to a lot of folks. We have one of the most competitive pay systems in place for our drivers which we review annually.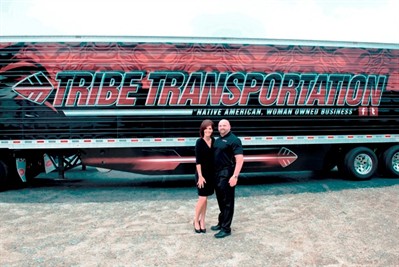 Tribe Transportation President Carla Joy Cain and Executive Vice President Matt Handte are shown with one of the company's trailers.
"Plus, we offer different modes of driving," said Handte. "We can cater to a driver who wants to pull maximum miles or, if a driver wants to be home more often, we can make that a priority. One size doesn't fit all. What's more, our health insurance plan is first rate, and we pay salary plus incentives to our team drivers - many of which are husband and wife, or father-son teams. This guarantees pay and is a bit of a departure from traditional trucking pay structures."
 
What's apt to help even more is the company's new "Tribe Campus," which is in early planning stage. Projected to open in a year or so, and located on 40 acres, the campus will house corporate headquarters; a driver's lounge with gaming room, fitness center plus overnight sleeping facilities and laundry services; a maintenance facility; and truck/trailer auto wash.
 
"We have a home-grown philosophy, which allows us to flourish," concluded Handte. "We care about what we do and the people who work with us. The success we've found in such a short amount of time speaks for itself. We have very good players here at Tribe Transportation, and like in most sports, the best team wins. Whether it's with customers or drivers, we treat them like they want to be treated and make them a part of our Tribe family. It's why we've achieved the level of success we have.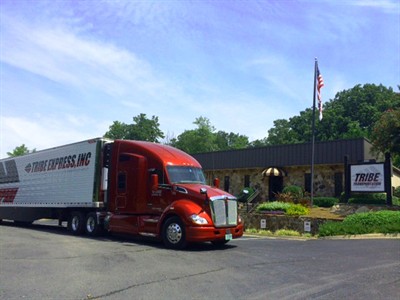 Kenworth Truck Company is the manufacturer of The World's Best® heavy and medium duty trucks. Kenworth's Internet home page is at www.kenworth.com. Kenworth is a PACCAR company.
SIDEBAR STORY:
 
Tribe Transportation Drivers "Feel" the Difference
 
The Kenworth T680 has re-energized J.B. Farrow. The 22-year driving veteran, the last three with Tribe Transportation, said the new truck model has made a world of difference when it comes to how he feels at the end of the day.  "Energy has returned, and that's contributed to my better overall health," he said.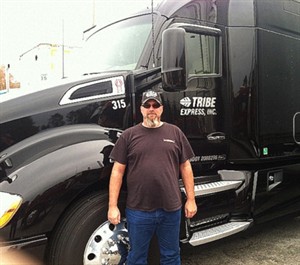 J.B. Farrow was the very first Tribe Transportation driver to receive the keys to a new Kenworth T680. Farrow especially appreciates the T680's comfort and quietness.
 
"I've dropped 40 pounds in the four months I've been driving the T680," Farrow explained. "I used to be so tired from driving that when my shift was over, I'd be too tired to walk.  I would just grab a bite to eat, and go to bed. But driving fatigue went away when I started driving the T680. It drives like a car - it's quiet and comfortable. I felt good when my driving was over for the day so I started walking and that coupled with giving up soft drinks, has helped me drop 40 pounds in four months."
 
Farrow was the very first Tribe Transportation driver to take keys to a new Kenworth T680, and he said he will be hard-pressed to return them. "The visibility and comforts of the truck are just great. We even have anti-rollover technology (Bendix ABS with Electronic Stability Program), which takes stress out of cornering - that's amazing technology. I've driven a lot of trucks in my lifetime, but nothing like this. I really didn't realize how much of a difference a truck could make until I drove this truck."
 
John Schultz, a veteran driver of 15 years, also has found a big difference in the ride quality of the T680. "It drives like a Cadillac," he said. "It's such a smooth ride and the PACCAR MX-13 engine is very quiet, plus there's absolutely no wind noise. The automated  transmission (Eaton UltraShift® Plus) is great too - it really makes it feel like you're driving a large car - there is so much less fatigue driving a truck that feels like a car."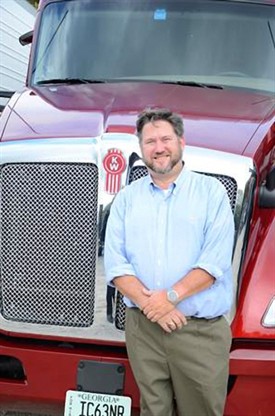 Veteran driver John Schultz with Tribe Transportation likes the Kenworth T680's smooth ride, quiet and efficient PACCAR MX-13 engine, and Eaton automated transmission.

Schultz said the T680 also garners attention at truck stops. "Oh yeah, other drivers always come up to me and say I'm driving one beautiful truck," he said. "One of the reasons I stay with Tribe is because they don't do things on the cheap. They show a lot of pride which comes across in the equipment they offer us drivers - it shows they care about our well-being."