Transition Trucking Public Voting For Top Rookie Military Veteran Truck Driver is Now Open
'Driving for Excellence' Award Winner To Receive Kenworth T680 Next Gen
KIRKLAND, Wash, Oct. 28, 2022 – Public voting is now open for "Transition Trucking: Driving for Excellence," a program dedicated to finding America's top rookie military veteran driver. The program recognizes top drivers who have made the successful transition from active duty to driving for a commercial fleet.
Kenworth has again teamed with FASTPORT and the U.S. Chamber of Commerce Foundation's Hiring our Heroes Program to support this special recognition program. For the seventh straight year, Kenworth is providing the top award. For 2022, Kenworth is awarding the T680 Next Generation. The T680 Next Gen is equipped with a 76-inch sleeper and the PACCAR Powertrain featuring the PACCAR MX-13 engine, PACCAR TX-12 automated transmission, and PACCAR DX-40 tandem rear axles.
The general public is invited to cast their vote online on the Transition Trucking website (www.transitiontrucking.org/vote). To assist in that process, here's information as provided by the 11 semifinalists to Transition Trucking. A short video on each driver also is also available on the website. Voting runs through Veterans Day on November 11. This voting is an important determiner for the Selection Committee as they make their ultimate choice for the next Transition Trucking award winner.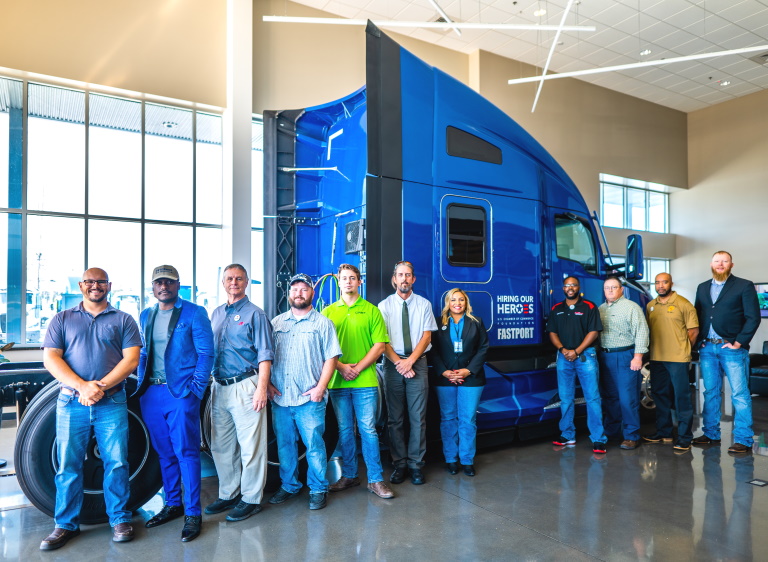 The "Transition Trucking: Driving for Excellence" Elite 11 are, from left: Jason Van Boxtel, Veriha Trucking; Joe Nyenatee, Melton Truck Lines; Dave Marihugh, Roehl Transport; Justin Silk, Paschall Truck Lines; Talon Rogers, CRST; Paul Gouker, Stevens Transport; Ashley Leiva, Draco Energy/Noemi Trucking; Sean Adams, McElroy Truck Lines; Christopher McDowell, EPES Transport; Michael Thomas, PRIME, Inc. and Cale Jensen, G. Dubbels Farms Trucking. The Elite 11 are shown recently at the MHC RoadReady Center in Chillicothe, Ohio.
Sean Adams, U.S. Navy, McElroy Truck Lines
Sean Adams served 22 years in the Navy as Aircrew Survival Equipmentman. After retiring as an E-6, he attended truck driving training school at Truck Driving Institute in Milton, Florida. TDI has been a strong supporter of military veterans and is proud to have another graduate become a finalist for the award. Sean is currently a company driver who is also a driver mentor/trainer and winning the award would help foster his dream of owning his own trucking company.
Jason Van Boxtel, U.S. Marines, Veriha Trucking
Jason Van Boxtel grew up in northeast Wisconsin and joined the Marine Corps after graduating from high school. He served as a Motor Transport Mechanic and reached the rank of Corporal before leaving the service and beginning his second career in law enforcement. After several years, he decided he was ready for a change and began looking into company sponsored training programs. As Jason progresses in his career, he envisions himself becoming a trainer next, and then getting involved with the training, safety, and compliance department.
Paul Gouker, U.S. Army & National Guard, Stevens Transport
Paul Gouker answered the call to serve our country at 18 years old. He enlisted and served our country for eight years in the National Guard before transitioning to active duty in April 2000. Paul deployed multiple times in support of the war on Terrorism, serving both in Iraq and Afghanistan as a Combat Scout. Paul did his CDL training at Georgia Driving Academy and is now joining a list of Stevens Transport drivers who have been recognized as finalists for this award.
Cale Jensen, U.S. Air Force and U.S. Army, G. Dubbels Farms Trucking
Cale Jensen began his military career immediately after high school when he enlisted in the United States Air Force in 1998. After serving ten years, he was nominated for Officer Candidate School, and upon completion served ten more years and was deployed to both Iraq and Djibouti Africa. Cale attended Riverland Community College and he and his wife Kia have eight children. His dream has always been to have his own trucking company and winning would get him one step closer.
Ashley Leiva, U.S. Army, Draco Energy / Noemi Trucking
Ashley Leiva served her country for 15 years as an Army combat veteran, and retired in 2021 to return to her hometown in Texas, where she and her brother took over her recently deceased mother's trucking business. She attended Del Mar Transportation, where she received excellent training and learned a good deal about the trucking industry in general. Ashley and her brother haul crude oil in South Texas for Draco Energy. Her mother inspired her to go into driving because it made her feel like she "was on top of the world." Ashley continues to be a high achiever. She loves driving, is actively pursuing her B.A. degree in Business Management.
Dave Marihugh, U.S. Navy, Roehl Transport
After 25 years of service in the Navy, Dave Marihugh retired and became a Florida Highway Patrolman for several years, before deciding his next adventure would be as a professional truck driver. He chose to do his CDL training with Roehl Transport and believes he made a great decision. Trucking gives him a way to continue serving his community, and he can already see himself becoming a trainer, and eventually moving into planning or logistics.
Christopher McDowell, U.S. Army and National Guard, EPES Transport
Christopher McDowell joined the military in 2002 and is still an active member of the National Guard. He earned his Class A CDL while taking advantage of the "Troops into Transportation" training program. Trucking feels natural to him because he feels that each load represents a mission to be accomplished.
Joe K. Nyenatee, U.S. Army, Melton Truck Lines
Joe K. Nyenatee was born in Yekepa, Liberia, in the middle of that country's long civil war. In 2003 at the age of 10, he moved to the United States. After attending several semesters of college, he decided that he wanted to be a part of something bigger than himself and enlisted in the military. The Army prepared him to be patient, disciplined, calm and resilient, and these traits have served him well as a professional truck driver. He attended Phoenix Truck Driving school at Fort Bliss, Texas, and now works for Melton Truck Lines, where he is already moving toward his goal of becoming an owner-operator.
Talon Rogers, U.S. Army, CRST
Talon Rogers and his wife live in Spokane, Washington and have two children. Talon joined the military because he wanted to serve his country, just like both of his grandfathers. He enjoyed his time in the service, but retired after suffering an injury. He attended truck driving school through "Troops into Transportation" and is now driving for CRST on a dedicated route. In just a short time as a driver, he realized that this is a great career opportunity that provides a stable income to provide for his family.
Justin Silk, U.S. Army, Paschall Truck Lines
Born in California and moving to Texas, Justin Silk learned about trucking at an early age from his cousin and uncles. In the Army, Justin was a 13 Papa, serving as a multiple launch rocket operator. He attended Hawkeye Community College where he obtained his Class A CDL license. Driving for Paschall Truck Lines has allowed him to travel the country and save money. He eventually wants to own his own rig, land and home.
Michael D. Thomas, U.S. Marines, PRIME Inc.
Mike Thomas served his country in the Marines for more than 19 years, and an additional five years as a contractor. Mike reached the rank of gunnery sergeant, and is highly decorated, with multiple tours of duty in Iraq and Afghanistan. The military taught him the importance of mission accomplishment, and this has also served him well in the trucking industry. Mike did his CDL training with PRIME Inc. and is proud to work for a company that respects and honors veterans each day.
To qualify for "Transition Trucking: Driving for Excellence,", drivers had to meet three eligibility requirements:
-- Must have been active military or member of the National Guard or Reserve.
-- Graduated from PTDI-certified, NAPFTDS or CVTA member driver training school, with a valid CDL.
-- First hired in a trucking position between January 1, 2021 and July 31, 2022.
The winner will be announced December 16 at the U.S. Chamber of Commerce in Washington, D.C.
For more information, visit the websites of the "Transition Trucking: Driving for Excellence" award program (www.transitiontrucking.org), FASTPORT (www.fastport.com) and Hiring Our Heroes (www.HiringOurHeroes.org).
Kenworth is The Driver's Truck™. See what drivers are saying at www.kenworth.com/drivers.
Kenworth Truck Company is the manufacturer of The World's Best® heavy and medium duty trucks. Kenworth's Internet home page is at www.kenworth.com. Kenworth is a PACCAR company.