Zimmerman Truck Lines Receives Long Distance Reliability with T680 and PACCAR MX-13 Engine
Offers Fuel Efficiency, Driver Comfort and Low Ownership Cost
When it came time to put long-term reliability to the test for the Kenworth T680 with the new PACCAR MX-13 engine, Kenworth turned to Zimmerman Truck Lines. Driver teams here can easily log 250,000 miles on a truck each year.
"Don't believe us?" asks the Zimmerman website. "Talk to any driver from ZTL and they will tell you it is true!"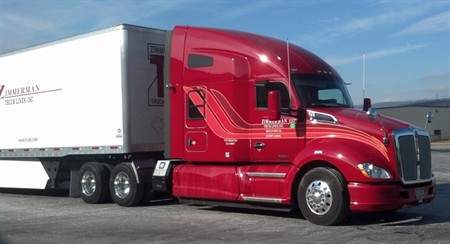 From coast to coast, across mountains and deserts, week after week, through all kinds of weather, "the T680 with PACCAR MX-13 engine has been reliable and is performing very well," said Chief Operating Officer Mark Zimmerman. "The power's there, the torque's there, the speed's there. And it's nice and quiet. Drivers are quite pleased with it."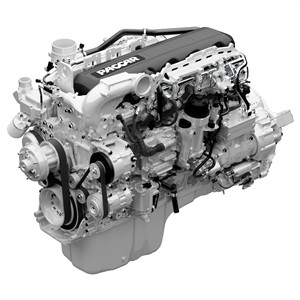 PACCAR MX-13 Engine
Between its two trucking divisions - vans and flatbeds - Zimmerman Truck Lines could easily grind through trucks quickly. With 175 trucks, mostly Kenworths, Zimmerman feels he's found the right truck for life-cycle durability and cost of ownership, especially for demanding coast-to-coast routes.
"The T600 series has been a workhorse in our fleet since the 1980s," said Zimmerman, who admits running other trucks over the years. "The T680 is the newest evolution of that. It's roomier and more fuel efficient, consistently running between 6.6 and 7.0 mpg. The steering, visibility, and everything that goes with it, is a plus. Drivers appreciate the comfort and ride."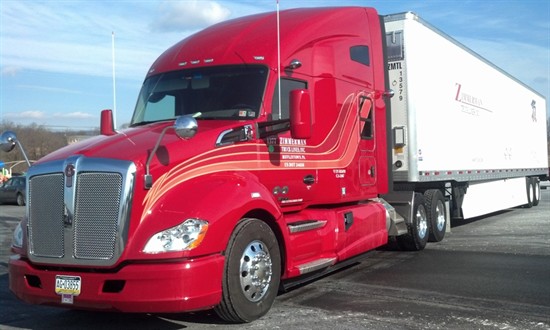 Teams especially like the extra-roomy, 76-inch integrated sleeper with 60 cubic feet of storage and full-height wardrobe cabinet. "Our drivers are our number one resource," said Zimmerman. "Team drivers spend a majority of their time in their trucks. The most important thing we can provide them is a quality Kenworth truck. We're fortunate that we don't have much turnover. Our trucks play an important part in driver retention."
In addition to the new T680 with PACCAR MX-13 engine and Eaton UltraShift® PLUS transmission, Zimmerman took delivery of five new T660s in 2012. Going forward, he expects to purchase more T680s, which take Kenworth's long tradition of superior aerodynamics and fuel economy to a new level of achievement.
"Along with driver satisfaction, the actual cost-per-mile is what drives our purchasing decision," said Zimmerman. "Sale price, fuel mileage and resale value all play a factor, but the one thing we've always looked at and use as a gauge when purchasing trucks is what it costs us, per mile, for the life of the truck. Maintenance costs of Kenworth trucks are lower than other brands we've had, and the quality workmanship is much higher. Kenworth has always proven to cost less per mile over the life of the truck."
As for service after sale, said Zimmerman: "The service we get from Kenworth of Pennsylvania is exemplary. They are definitely a first class operation. It's true that you get what you pay for. Kenworth has always treated us very well."
Kenworth Truck Company is the manufacturer of The World's Best® heavy and medium duty trucks. Kenworth's Internet home page is at www.kenworth.com. Kenworth is a PACCAR company.