Kenworth T680 Receiving Thumbs Up Reviews from Owner-Operators and Company Drivers
Back in 2002, when Rick Duke was 21, he began his career in truck driving behind the wheel of a 1993 Kenworth W900.  Hauling sand and gravel with an end-dump, Duke said it was hard to believe the company truck he was assigned to had 1.5 million miles on the odometer.  "It was just a great truck," he said.  "That's when I fell in love with Kenworth."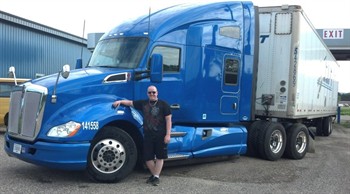 Owner-operator Rick Duke says his Kenworth T680 is unlike anything he has ever driven.
Fast forward to today and you'll see Duke piloting a Kenworth T680 between Minneapolis and Los Angeles on a linehaul, along with his driving partner, Kris Markham.  Now an owner-operator, who gave up aggregate for the open road, Duke said he's never been happier.  He's leased on with Swift Transportation and took advantage of the company's lease-to-own program to get one of the first Kenworth T680s off the line.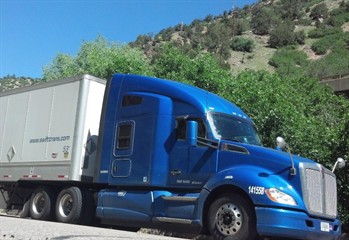 Shown is Rick Duke's Kenworth T680.
"When I first heard about that truck I read everything I could on it on the Internet. I watched YouTube videos on the T680 and then finally saw a yellow T680 on the road.  I did all the research and that's the truck I wanted," Duke said.
Duke said all the anticipation about the Kenworth T680 has lived up to expectations.  "I think even more so.  I turned in a Kenworth T660 with 312,000 miles to get this, and I couldn't be happier with that decision.  The T680 is unlike anything I've ever driven.  It's so quiet, so comfortable.  The doors close with just your fingertips and it's really like driving a luxury car.  I could go on and on about the comfort and the layout."
Performance wise, Duke said the truck is paying off handsomely in fuel economy.   The T680 with a 76-inch sleeper is powered by a Cummins ISX engine rated at 400 hp and driven through a 9-speed transmission.  "I have a little competition going with Kris on who can get the best fuel economy, but we're pretty even," said Duke.  "We're averaging around 8 mpg carrying nearly full loads and the truck isn't even broken in yet.  The competition is really going to get going when Kris gets his own T680.  We're planning to go into business together and start a small fleet, leasing on with Swift.  We hope to have three to five trucks running over the next few years."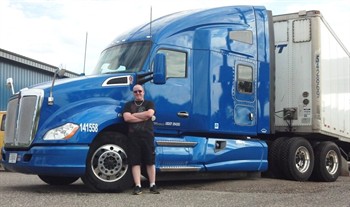 Owner-operator Rick Duke says of his Kenworth T680, "…it's really like driving a luxury car."
Driving and being a small fleet operator was also in the cards for Veniamin Babshinsky, who has a driver running one truck while he handles deliveries in his new Kenworth T680 with 76-inch sleeper.  Emigrating from the Ukraine 14 years ago, Babshinsky drove cabovers for four years before coming to the states.  "Once I was here, I think I drove every truck out there," he said.  "It was easy to see that Kenworth had the best quality.  I wanted a very dependable truck with good service behind it.  That's what really drove me to the T680 and Kenworth Northwest."
According to Erik Johnson, Kenworth on-highway marketing manager, driver reaction to the T680 confirms all the research and design work behind the new platform truck was worth the effort.  "We're getting just great feedback from drivers and fleets," he said.  "We had a mantra going into its design: live, work, drive.  Those words encompass everything a truck driver does and we incorporated them into the T680's design.  The T680 was engineered to get industry-leading fuel economy, while driver comfort, serviceability and dependability, are all what we feel is best-in-class."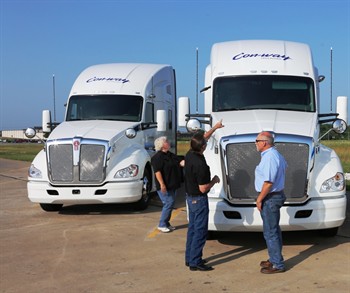 At right, Randy Cornell, Con-way vice president of maintenance and asset management, receives positive feedback on the Kenworth T680 from Edward Davis, who is a Two Million Safe Miler - accident free professional driver with Con-way Truckload. At left, is Edward's wife, Barbara Davis, who accompanies him on the road. The couple is considering the T680 as their next truck. 
It's why Johnson said he wasn't surprised when he heard that the Kenworth T680 had the most votes when Con-way Truckload asked its drivers to select the truck they most wanted to drive. Con-way invited a number of major truck manufacturers to display their latest truck models at five of Con-Way's terminals across the United States - and invited its drivers to pour over the trucks.
"We had more than 400 drivers look over the trucks and of those, 200 took the time to fill out surveys as to which truck they liked best, and why," said Randy Cornell, Con-way Truckload's vice president of maintenance and asset management.  "The Kenworth T680 was the clear-cut winner.  Drivers liked the roominess, the cab and sleeper layout and how they felt behind the wheel."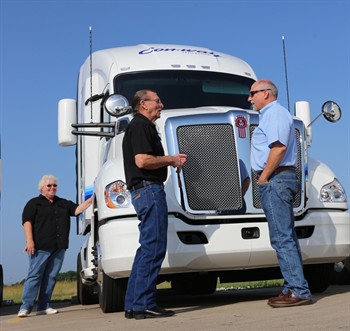 From left are Barbara Davis, Con-way Truckload  professional driver Edward Davis, and Randy Cornell, Con-Way Truckload vice president of maintenance and asset management, with one of the company's Kenworth T680s.
With that endorsement, Con-way talked to MHC Kenworth and placed an order.  With 117 Kenworth T680s with 76-inch sleepers now already in service, the company will have 385 of the new model in service by the end of 2013.
"I remember looking at all those trucks," recalled Mick Korn, who has been driving with Con-way, and before that, with CFI for 22 years. "I got to look at them all, but I didn't see anything that I liked better than the T680."
Korn actually got to do one better than other drivers seeing the T680 for the first time.  "I had been driving a T680 for several weeks before the big show-and-tell with the other trucks," he said.  "Con-way had purchased one of the first off the line as part of a test program, I was lucky enough to get to drive it.  The truck is so quiet inside - almost like a car - and it has so much technology and bells and whistles.  It's just unbelievable.  Not only is it the most comfortable - the new seats Kenworth developed are just outstanding - but it's also the best driving truck I've ever piloted.  The handling and turning is exceptional."
When Korn got behind the wheel for the first time, he said he actually thought something might be wrong with the clutch when he first started engaging it.  "I asked our service guy about it," he said.  "I didn't realize that it was an air-assisted hydraulic clutch. It takes very little pressure to engage.  It's great.  The doors are something as well.  Just give them a slight push to close, and they're shut.  It's more like an automotive door than a truck door.
"And, I'm not a very big guy (5'6") and everything is easy for me to reach - the seat travel is very nice, and the dash layout was well thought out.  That was a big difference I found when comparing the T680 to other trucks.  Not all trucks fit my build.  Another of our Con-Way drivers is 6'6" and 250 pounds, and he fits just as easily into the cab as I do.  It really is an all-drivers truck."
One piece of electronics that Korn said he can't do without is the Kenworth NavPlus®.  "Boy, that makes things easy," he said.  "It gives great navigation and is easy to operate, plus it displays extra gauges, which I like, plus I can adjust all the audio on the display."
According to Cornell, more drivers are asking to drive the T680s than Con-way has available.  "That's a good sign," said Cornell.  "It shows you just what they think of the new truck model.  As new truck deliveries continue to come in through the year, we'll be seeing a lot of smiles."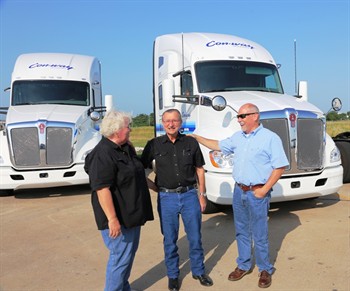 At right, Randy Cornell, Con-way vice president of maintenance and asset management, shares a relaxed moment with Edward and Barbara Davis after completing a close look at the Kenworth T680 with them.
The Kenworth T680 with the PACCAR MX-13 engine received the 2013 Heavy Duty Commercial Truck of the Year award from the American Truck Dealers (ATD). The PACCAR MX-13 is the standard engine in the T680 and is rated up to 500 hp and 1,850 lb-ft of torque.
Kenworth Truck Company is the manufacturer of The World's Best® heavy and medium duty trucks. Kenworth's Internet home page is at www.kenworth.com  Kenworth is a PACCAR company.