Kenworth Launches 52-Inch Mid-Roof Sleeper for Kenworth T680
Kenworth 90 Years
Kenworth Truck Company announces the introduction of a new 52-inch mid-roof sleeper for its flagship Kenworth T680.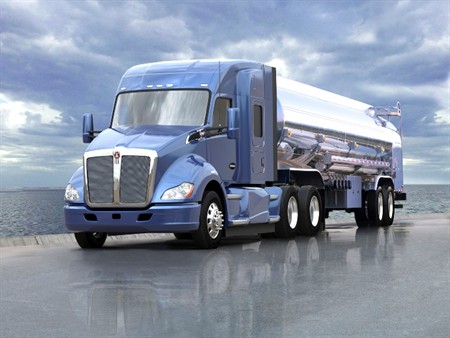 "Kenworth's new mid-roof sleeper offers greater efficiency for operators in regional haul applications," said Kevin Baney, Kenworth chief engineer.

"The 52-inch sleeper delivers a big package in a small footprint; it's a very efficient design. The sleeper is ideal for regional haul applications where drivers spend two to three nights on the road. Specifying the optional passenger swivel seat further expands the living space, and enables the driver to use both the cab and the sleeper as a comfortable space for relaxation when they're not behind the wheel," said Baney.

"Plus, the smaller package yields excellent weight savings for Kenworth customers. The 52-inch sleeper will save up to 700 pounds versus the 76-inch sleeper available with the T680," Baney added. "It is available with an aerodynamic roof fairing for customers who operate van body trailers or without a roof fairing for flatbed or tanker operators."       

The 52-inch sleeper provides excellent interior height for a mid-roof sleeper. "A driver or passenger up to 6-foot-4 can easily stand up between the seats," said Baney.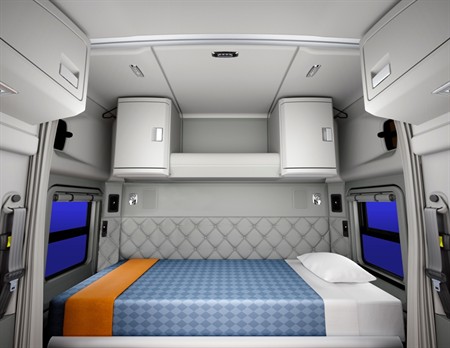 The mid-roof sleeper features a liftable lower bunk and upper storage units on the sleeper's back wall, including hanging storage for drivers to hang their clothes and jackets, or an optional upper bunk for driving teams. A bunk heater, flat screen TV and premium sound system can be added for even more driver comfort.

"Many regional haul applications don't utilize full-height trailers," Baney said. "Operators who run tank, flatbed, heavy haul, lowboy and container trailers typically have lower trailer heights or lower payload heights than traditional 53-foot dry van trailers. The mid-roof sleeper is a more application-specific design and can be more efficient because it pushes less air."

Still, gaining greater fuel efficiency is not the only benefit of choosing a 52-inch sleeper. "With a mid-roof sleeper, the truck's heating and cooling system doesn't have the additional 3 feet of volume in a full-height sleeper to heat or cool. That means the sleeping area can reach a comfortable temperature much more quickly, which is important to drivers," he said.

"By offering the mid-roof sleeper, Kenworth is providing customers more options for fuel-efficiency and a comfortable, space-efficient living and working environment," Baney said. "That's an important consideration for haulers whose drivers aren't out on the road for several weeks at a time, but still demand comfort in their home-away-from-home."
Kenworth Truck Company is the manufacturer of The World's Best® heavy and medium duty trucks. Kenworth's Internet home page is at www.kenworth.com. Kenworth is a PACCAR company.