Seaboard Foods To Add 45 Natural Gas-Powered Kenworth Trucks to Move Hogs and Biodiesel Made from Pork Fat
Past Experience With Kenworth Trucks and Dealer Service Factor in Decision
When High Plains Bioenergy delivers biodiesel made from pork fat at its biodiesel plant, it will be using compressed natural gas (CNG)-powered Kenworth trucks to get the fat out.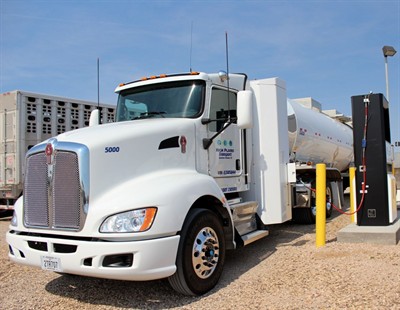 Kenworth T660 with Cummins Westport ISX12 G Engine
High Plains Bioenergy, a wholly-owned subsidiary of Seaboard Foods, produces more than 30 million gallons of B99 biodiesel annually from a variety of fats, including pork fat rendered at the nearby Seaboard Foods pork processing plant. The company now uses two Kenworth T660 day cabs powered by the new Cummins Westport ISX12 G heavy-duty natural gas engine to transport the biodiesel from the plant to regional biodiesel customers.
In addition, Seaboard Foods Live Production Operations will be placing 43 Kenworth T800 short hood day cabs, also powered by the Cummins Westport ISX12 G engine, into operation hauling live animals from the farms to the company's pork processing plant and animal feed from its feed mill operations to its farms. Seaboard's live operations transport more than 4 million market hogs annually from its farms to its Guymon, Okla., pork processing plant.

Kenworth T660 with Cummins Westport ISX12 G Engine
"We see adding CNG-powered Kenworth trucks as a great opportunity to further our commitment to sustainability and environmental stewardship," said Terry Holton, president and CEO of Seaboard Foods. "The availability of a 12-liter natural gas engine really makes it possible for our operation to run CNG-powered trucks because it provides the right amount of power and torque for the loads our trucks carry."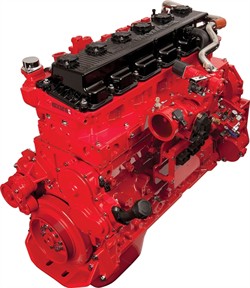 Cummins Westport ISX12 G Engine
The Cummins Westport ISX12 G engine requires a single fuel source and can run on either CNG or LNG (liquefied natural gas), both of which are cost effective, low carbon and low emissions fuels. The natural gas engine uses a maintenance-free, three-way catalyst and does not require a diesel exhaust fluid (DEF) tank, diesel particulate filter (DPF) or selective catalytic reduction (SCR) technology. Kenworth currently offers the ISX12 G for the Kenworth T660 and T800 short hood (116.5-inch BBC). Also available for heavier applications is Kenworth's T800 standard hood (122.5-inch BBC) with the Westport™ 15L HPDI technology natural gas engine.
"Our past experience with our diesel-powered Kenworth trucks offers us confidence in the durability and reliability of these natural gas-powered Kenworths in the years to come," Holton said. "Our experience with the service from our Kenworth dealers also convinced us to buy the natural gas-powered Kenworths. We've had a very good relationship with our local Kenworth dealers."
The CNG-powered trucks will be fueled using two new dedicated natural gas fueling stations that the company has built and located near its biodiesel plant in the Oklahoma Panhandle.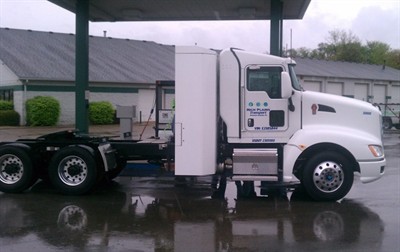 Kenworth T660 with Cummins Westport ISX12 G Engine
"With the right spec'ing choices, many operators like Seaboard have the potential to realize significant reductions in fuel costs and emissions, particularly if they're replacing older diesel trucks with new Kenworth trucks powered by natural gas," said Andy Douglas, Kenworth national sales manager for specialty markets.
Recently, the average cost of diesel fuel in the United States was just under $4 per gallon, according to the U.S. Energy Information Administration. The average price of a diesel gallon equivalent of CNG in the United States is nearly $1 less.
"The new Cummins Westport ISX12 G engine also provides a better operational fit for many operators, such as Seaboard, because it provides as much as 80 hp of additional power and 450 pounds of additional torque compared to the peak rating of the 8.9-liter Cummins Westport ISL G engine," said Douglas.
 "We're excited to be adding these natural gas trucks and becoming among the first Kenworth customers to select the Cummins Westport ISX12 G engine," Holton said. "The Kenworth T660 and T800 are both high-quality, rugged and reliable trucks that fit well into our sustainability and environmental stewardship program."
Kenworth Truck Company is the manufacturer of The World's Best® heavy and medium duty trucks. Kenworth's Internet home page is at www.kenworth.com. Kenworth is a PACCAR company.