New Kenworth Medium Duty Trucks: Versatility is its Calling Card
A new wider cab combined with new hood designs and a shorter and lower cab position, means more versatility, productivity and comfort for Kenworth medium duty truck owners.
"The new medium duty line ranges from Class 5 to light Class 8. The wider 2.1-meter cab gives our customers more room inside the truck. This allows for three-person seating with the bench seat standard for the Kenworth T180, T280 and T380 and optional for the T480," said John Luoma, Kenworth product planning director.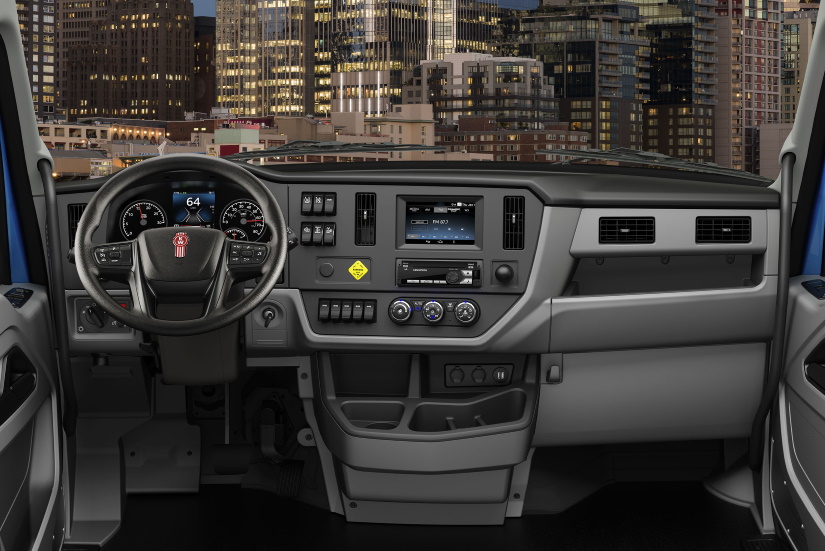 "We also lowered the cab by up to 2 inches – depending upon the bumper to back of cab (BBC) selected. Our surveys show that in-city drivers can climb in and out of a truck up to 60 times a day, so this is a really a big benefit to drivers. It's just a little over 40 inches to climb into the cab for those using our short hood models. And, our shorter BBC dimension allows for shorter wheelbases, which means a tighter turning radius and better maneuverability at the job sites," said Luoma.
The wider cab has a large front windshield, which improves visibility by close to 17 percent over previous Kenworth medium duty models. "Not only can the driver see out better from left to right, there is more visibility directly in front of the truck thanks to the steep slope of the hood," said Luoma. "With the new cab construction, we're also able to reduce interior noise by up to 50 percent."
Three hoods are available: The short aero hood (107.5-inch BBC), which accommodates front axles from 8K to 20K lbs.; a medium aero hood (109.5-inch BBC) for higher horsepower applications – like bucket trucks or tow trucks – which often spec winch bumpers, PTOs and up to 425 size tires. This hood also allows the spec'ing of 10K to 16K lbs. front drive axles. The last hood is Kenworth's vocational 'sloped' hood used on the T380V and T480V vocational trucks.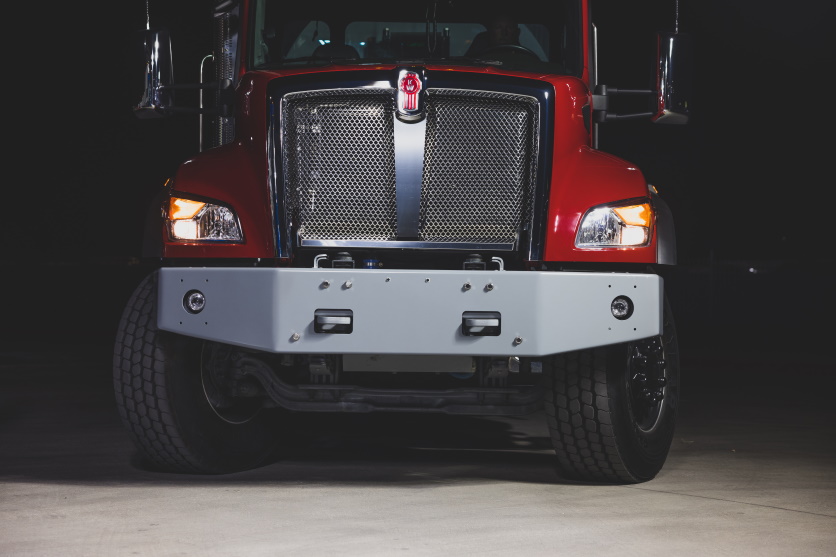 "Product flexibility is achieved with each configuration," said Luoma. "For example, we have some snow plow, mixer and pumper customers who will need the T480V for its full parent rail extensions (allowing for snow plow attachment) and front-engine PTO for hose reel installation. The grille is mounted to the cooling module to allow for steady legs, crane outriggers, or for other attachments that can be located in front of the hood. Thanks to the new cab position, the BBC is 8 inches shorter than the T470 it replaces. This gives the truck a shorter footprint, tighter turning radius, and more maneuverability. It can also accommodate 16K to 20K lb. rated front drive axles."
Kenworth offers three bumper types – the standard one-piece painted composite bumper optional three-piece breakaway "aero" bumper; a rear-mounted one-piece channel bumper; and a vocational bumper with options for a tow hook, fog lights, headlights, daytime running lights (DRL) and other mounts. Adding even more versatility is the standard stamped steel low-profile roof that is 4 inches lower than Kenworth's optional raised roof. "This is perfect for those applications where cranes, pumpers or booms are used," said Luoma. "It provides for a lower center of gravity, further optimizing swinging attachment operation."
Three different engines are available for Kenworth's new medium duty line. "The redesigned front end gives a lot of flexibility when it comes to engine sizes and axles. The trucks can be spec'd with either the PACCAR PX-7 engine rated up to 325 horsepower or PACCAR PX-9 engine up to 380 horsepower, depending upon BBC. Our new medium duty vehicles also now offer the near-zero emission Cummins Westport L9N natural gas engine that delivers 320 horsepower," said Luoma.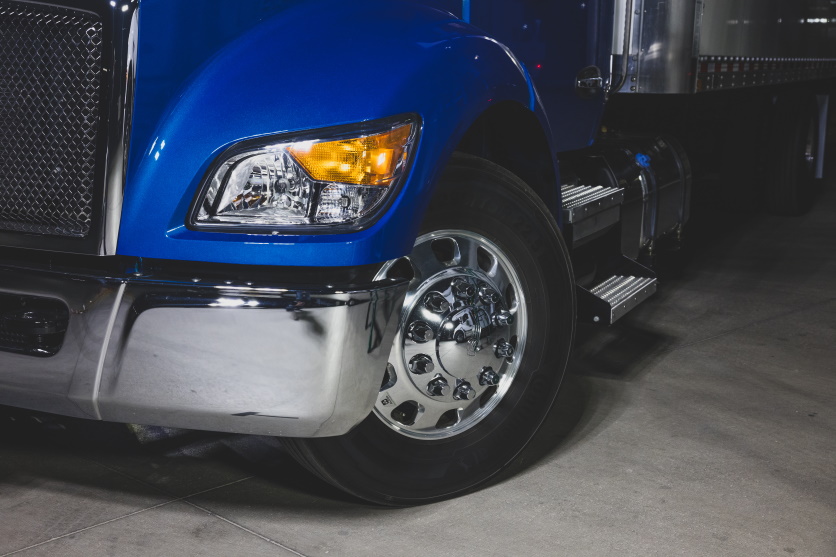 "With the shorter BBC and hoods configurations, these versatile Kenworth medium duty trucks are capable of a wide variety of body configurations to serve medium duty customers throughout the U.S. and Canada," said Luoma. "We look forward to working with fleets, truck operators and body builders to bring these new trucks into service."
Kenworth is The Driver's Truck™. See what drivers are saying at www.kenworth.com/drivers.
Kenworth Truck Company is the manufacturer of The World's Best® heavy and medium duty trucks. Kenworth's Internet home page is at www.kenworth.com. Kenworth is a PACCAR company.