Lou-Mac Transport Finds Versatility, High Driver Acceptance with Kenworth T880s
Lou-Mac Transport was exactly what Jonathan McDonald and Marc-Antoine Saroli had in mind when the two set out to purchase a flatbed hauling company in 2019.
Not only was the Sainte-Anne-des-Plaines, Quebec-based company profitable, but its success was built over years of establishing strong relationships with its customers – and it had a list of long-time customers to prove it. The company's dedication to providing drivers with a favorable workplace environment and its low turnover numbers, as a result, was further proof that the company's operation was solid.
"Guy (St-Amour and his wife Raymonde, Lou-Mac Transport founders) did an excellent job building up their company from a one-truck operation, and they laid the groundwork for what the company looks like today," said McDonald, Lou-Mac Transport president. "Even though ownership switched hands, Guy is still very much involved with the business. His industry knowledge, relationship with customers, and business acumen is a great asset for us."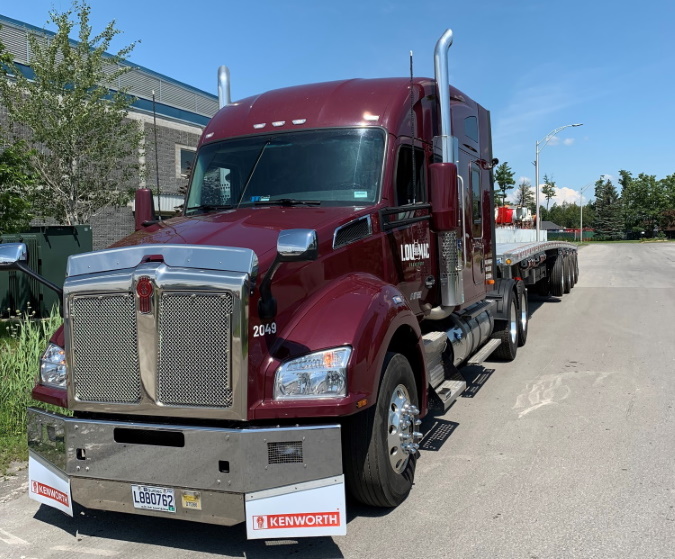 According to McDonald, for as long as Lou-Mac Transport has been in business, Kenworth trucks have been responsible for making deliveries. Today, the company operates a 25-truck fleet that consists primarily of Kenworth T880s with 76-inch mid-roof sleepers, equipped with 510 hp PACCAR MX-13 engines and automated transmissions.
"Guy has always been a fan of Kenworth's products," said McDonald. "The Kenworth W900L was the truck he operated when he and his wife first started the company, and as the fleet grew, so did his relationship with Kenworth."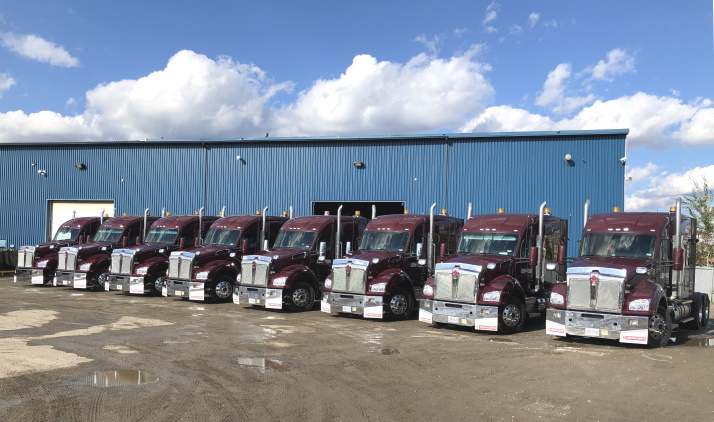 When McDonald and Saroli purchased the company, they knew their first order of business was to begin replacing its aging fleet with new equipment. Years of service and high mileage on the fleet's previous trucks were limiting the company's operation. In Lou-Mac Transport's first year under new ownership, the company replaced 75 percent of its trucks with Kenworth T880s.
"The trucks we had served the company well, but to realize our full potential, we needed to invest in new equipment to reduce maintenance-related downtime, improve service to our customers and other areas of business," said McDonald.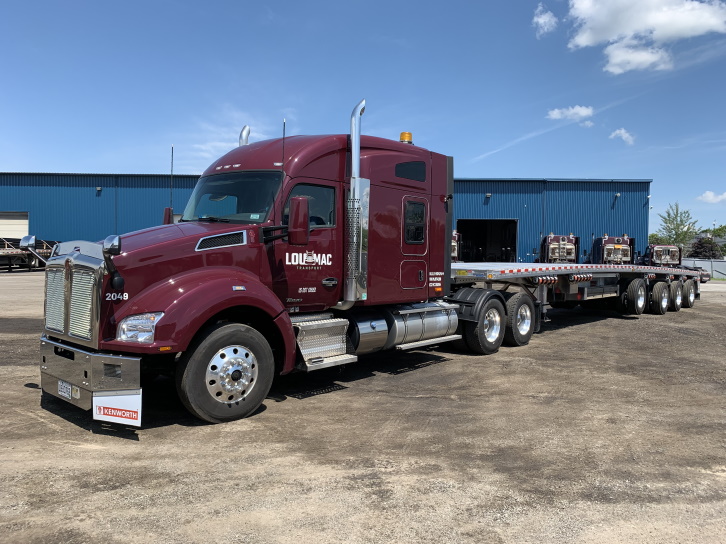 According to McDonald, the decision to add Kenworth's vocational model wasn't made because of the company's previous relationship with Kenworth. In fact, McDonald and Saroli took an extensive look at a variety of makes and models and met with several OEM salesmen before landing on the Kenworth T880.
"Our drivers face a wide variety of operating conditions, so finding a versatile truck was important," said McDonald. "Much of our business is transporting steel and construction material throughout eastern Canada and eastern U.S. states, so we needed a truck that would perform well on-highway. We also do some business with logging companies, and we pick up and deliver to off-road construction sites. So, we needed trucks that could handle those applications, and also perform well in adverse conditions during the winter months in Canada."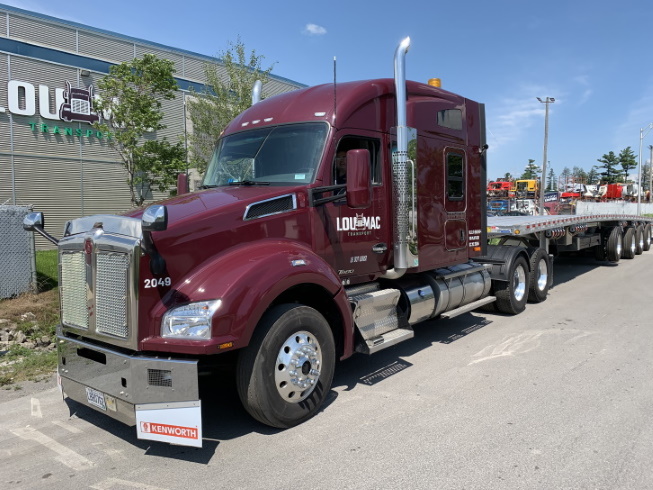 Another driving factor in the company's purchasing decision was the return on investment that Lou-Mac Transport would receive when it came time for resale.
"In making such a large investment in new equipment, we wanted to be sure to buy quality-built, reliable trucks to better assist our customers' needs, while at the same time, retain value," said McDonald. "We're on a 5-year lifecycle with our T880s. So far, the T880s are performing as we expected, and when it's time to sell, we anticipate a nice return."
Since Lou-Mac Transport first took delivery of Kenworth T880s in 2019, the company has continued to replace and add trucks to the fleet. Lou-Mac Transport purchases its T880s through Kenworth Montreal, and currently has six on order, scheduled to be delivered throughout the year. Earlier this year, Kenworth Montreal opened its doors to its newest full-service dealership in Mirabel, Quebec. According to McDonald, the new location has been a real difference-maker in Lou-Mac Transport's operation.
"What used to be a 45-minute driver for us to our Kenworth dealership in St. Laurent is now only 15 minutes down the road to the Mirabel location," said McDonald. "It's a significant time savings for us if we need to bring our trucks in for service. It helps us keep downtime to a minimum."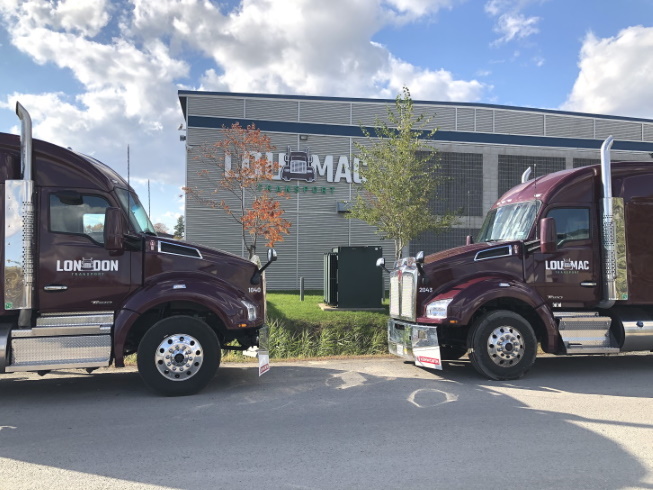 Now that Lou-Mac Transport is finished phasing out its older trucks, new additions to the fleet will help the company accommodate for increasing customer demand.
"Our customer base is growing at a steady clip, and we're needing more equipment to keep up with demand," said McDonald. "We're building off the solid foundation that Guy provided us with, and we look forward to continued growth. The T880s we're now running help promote our brand and market our company to new potential customers. When you see our trucks on the road, you know they're Lou-Mac trucks." As McDonald is quick to point out, the company's trucks are only part of the equation in running a successful business. Lou-Mac Transport's ability to support and maintain a favorable culture for drivers helps to limit turnover, which is essential in keeping freight moving and customers happy.
"Fortunately for us, driver turnover isn't really a challenge we face. We always seem to have a backlog of driver applications, which tells us drivers around the area know what we offer," said McDonald. "Driver compensation obviously plays a role, but keeping drivers genuinely happy requires more than that. Every year prior to placing orders for the following years' trucks, we meet with our drivers to discuss what we can do to better specify our trucks to make them more accommodating for them. We want our drivers to be comfortable out on the road."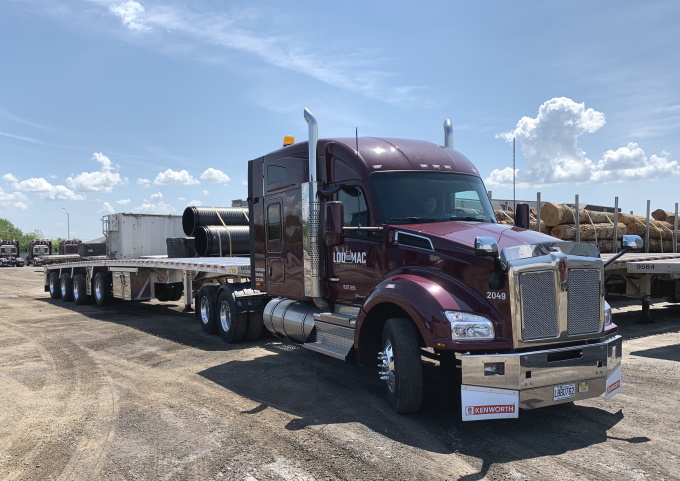 According to McDonald, specification additions the company has made in recent T880 purchases include premium Diamond VIT interior with wood-colored accents, chrome side mirrors, and premium Kenworth GT703 heated and ventilated high back driver and rider seats.
"It's a small thing for us to do," said McDonald. "Our drivers appreciate being in new equipment and enjoy the driving experience our T880s provide. When we take care of our drivers and customers, success is bound to follow."
Kenworth is The Driver's Truck™. See what drivers are saying at www.kenworth.com/drivers.
Kenworth Truck Company is the manufacturer of The World's Best® heavy and medium duty trucks. Kenworth's Internet home page is at www.kenworth.com. Kenworth is a PACCAR company.