Kenworth's New Medium Duty Lineup Receives High Praise from First Recipients
Anticipation for Kenworth's new medium duty conventional truck lineup has grown steadily among Kenworth customers. The wait is over.
"I was fortunate to be one of several Kenworth customers to provide feedback to Kenworth engineers during the design and development stages for Kenworth's newest medium duty models," said Jeff Twohig, Badger Liquor fleet manager. "I think Kenworth did an excellent job blending customer feedback with what they envisioned with their new trucks. The final result is significantly improved driver comfort, ergonomics, design and drivability."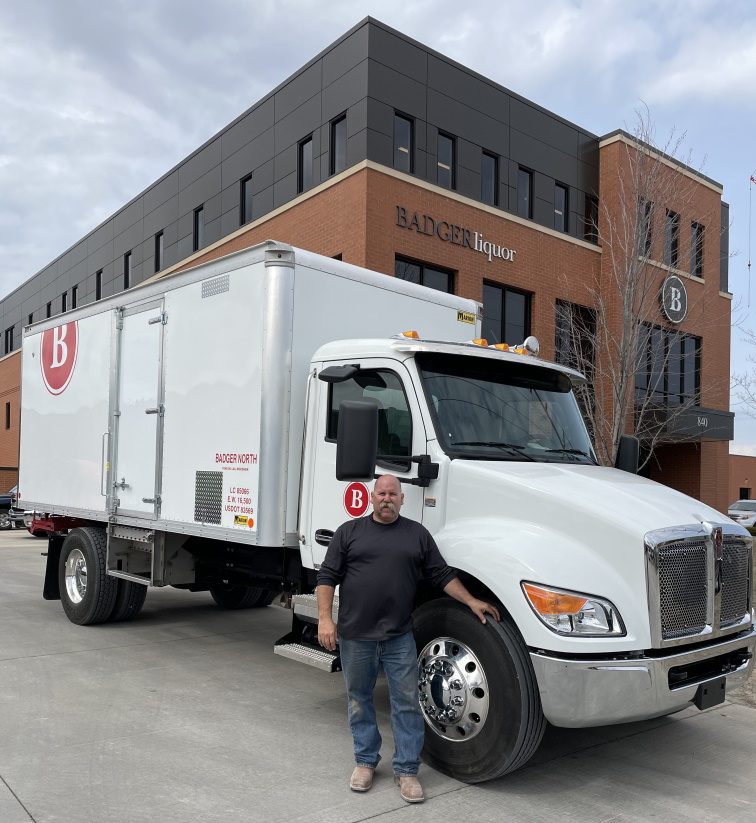 Jeff Twohig, Badger Liquor fleet manager, with the company's new Kenworth T380


Badger Liquor, based in Fond du Lac, Wisconsin, is one of three Kenworth customers, including Great Bay Distributors and Kirby-Smith Machinery, selected to receive pre-production Kenworth T380 Class 7 and T280 Class 6 models and place them into real-world service.
Badger Liquor operates 80 medium duty trucks – primarily Kenworth T370s – purchased from Wisconsin Kenworth – Milwaukee that are used to distribute liquor to retailers and restaurants throughout Wisconsin. Since placing its new Kenworth T380 vehicle into service nearly four months ago, drivers are finding the truck to be very driver-friendly, according to Twohig.
"Our drivers typically make 40 to 50 deliveries daily, so they get in and out of the cab all day. With the Kenworth T380 configured to sit lower to the ground, combined with the new step design, drivers are reporting an easier time entering and exiting the cab," said Twohig. "Since drivers often ride with a 'helper' to off-load products, the wider cab with more legroom and storage space is appreciated. The new dash with expanded connectivity options, such as USB ports, is something our staff also enjoys."
According to Twohig, the Kenworth T370s in Badger Liquor's fleet are all equipped with manual transmissions. The fleet's pre-production Kenworth T380 is specified with the PACCAR PX-9 engine rated at 260 hp and the new 8-speed PACCAR TX-8 automatic transmission. While the T380's primary driver is accustomed to operating manual transmissions, Twohig said he has heard high praise about the new automatic transmission from that driver.
"For someone who is used to driving manuals, the feedback is all positive. He's been happy with the responsiveness and performance the automatic transmission provides," said Twohig.
For Mike Coleman, fleet manager for St. Petersburg, Florida-based Great Bay Distributors, the new Kenworth T380 is living up to expectations. Six years ago, the company began transitioning its fleet of 56 medium duty trucks to operating mainly Kenworth T370s. The company purchases its trucks from Tampa Florida Kenworth. According to Coleman, the decision was made then to run more reliable trucks. So far, the T380 is already establishing itself as a step up to its productive predecessor.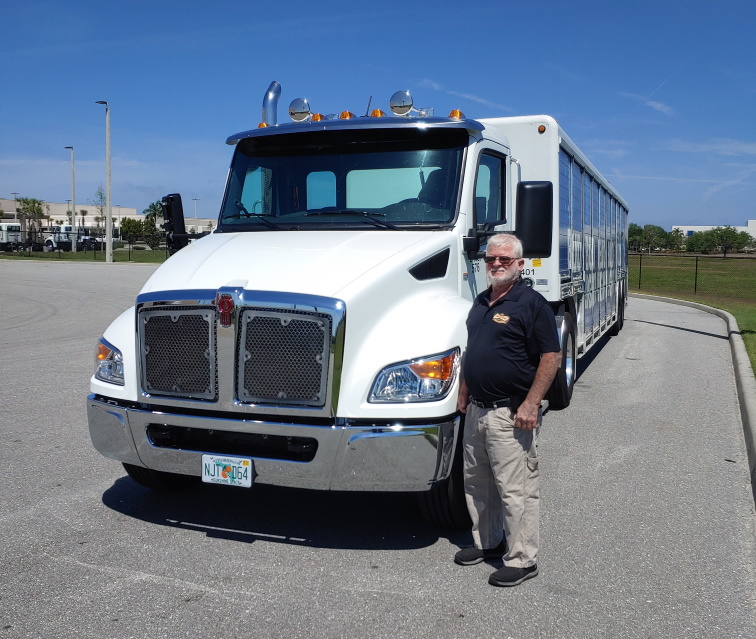 Mike Coleman, fleet manager for Great Bay Distributors, with the fleet's new Kenworth T380
"The new Kenworth T380 we received about four months ago is equipped with the PACCAR PX-9 engine, the same engine we have in our T370s. The big difference is the enhanced performance we've seen when paired with the PACCAR TX-8 automatic transmission. I believe it is the reason we're achieving better fuel economy numbers," said Coleman.
"The transmission shifts gears much more smoothly compared to the transmission we have spec'd in our T370s. We typically run our trucks for 10 to 12 years. The T380 with the PACCAR powertrain may just be the right formula for us moving forward," he said.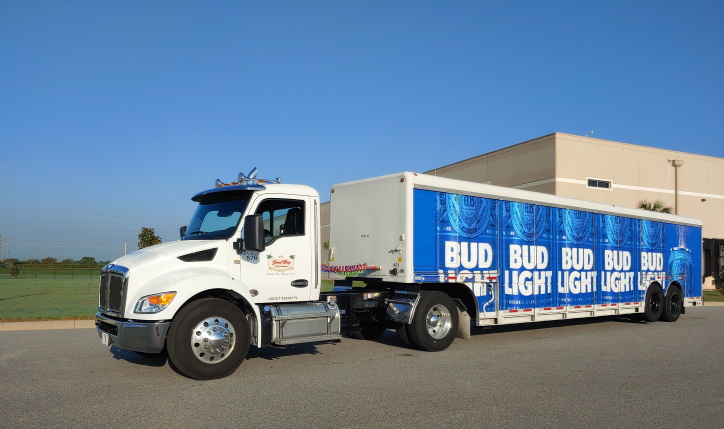 On the road, the Kenworth T380 is used to distribute Anheuser-Busch products to retailers and restaurants throughout the greater Tampa/St. Petersburg area. According to Coleman, the T380s shorter wheelbase and wider cab have made drivers' lives easier when making deliveries.
"Our drivers have mentioned that they're able to make tighter turns, thanks to the T380's shorter wheelbase," said Coleman. "That helps when drivers make in-city deliveries since those roads can be more challenging to navigate. The T380's larger windshield provides better visibility, an addition that makes this truck easier to operate. Inside, drivers are raving about how the cab is roomy and quiet."
Kirby-Smith Machinery, headquartered in Oklahoma City and with more than 12 branch locations in Oklahoma, North Texas, West Texas, Kansas, and Missouri, is recognized as one of the premiere new and used heavy construction equipment and crane dealers in the country. As a full-service dealer, Kirby-Smith Machinery has been serving the construction, mining, and industrial markets since 1983. The company operates a fleet of more than 100 medium duty trucks equipped with Auto Crane bodies to provide mobile service to its customers. The fleet is comprised of mostly Kenworth T270s, and now, a Class 6 Kenworth T280 specified with the PACCAR PX-7 engine rated at 300 hp. The company purchases its trucks from MHC Kenworth – Oklahoma City.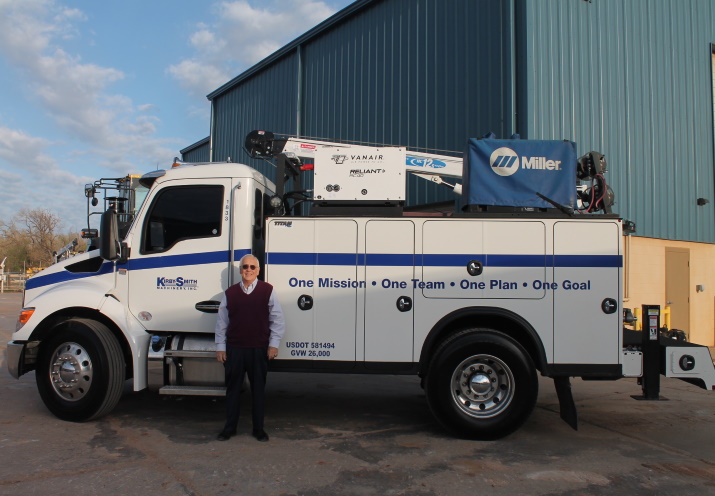 David Baker, Kirby-Smith Machinery director of operations, with the company's new Kenworth T280
According to David Baker, Kirby-Smith Machinery director of operations, the T280 is making life easier for its field technicians, who use the truck to service customer equipment. "Our field technicians love the improved creature comforts and technology available inside the cab, as well as the extra legroom and storage space," said Baker.
When the Kenworth T280 becomes available, Baker said he will be first in line to place an order.
"I'd buy another T280 today if I could," said Baker. "Kenworth has a good reputation for producing quality and reliable trucks, backed by strong support from the Kenworth dealer network. The T280 will be a productive truck for us moving forward."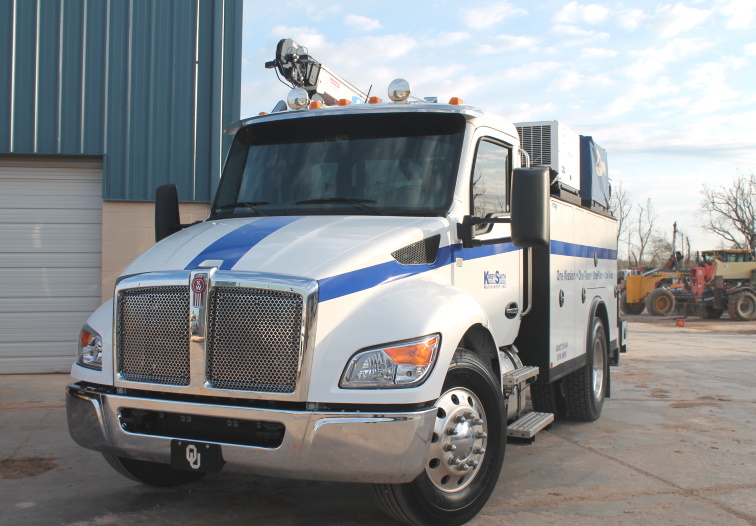 Kenworth is The Driver's Truck™. See what drivers are saying at www.kenworth.com/drivers.
Kenworth Truck Company is the manufacturer of The World's Best® heavy and medium duty trucks. Kenworth's Internet home page is at www.kenworth.com. Kenworth is a PACCAR company.