Kenworth K270 and K370 Cabovers Provide Excellent Maneuverability and Durability
Kenworth 90 Years
"When it comes to delivering loads into tight urban settings, nothing compares to Kenworth's K270 and K370 medium duty cabovers," said Doug Powell, Kenworth medium duty marketing manager.

According to Powell, beverage distributors, pick-up and delivery, furniture, food processors and other urban delivery applications have been early customers of the Kenworth K270 and K370.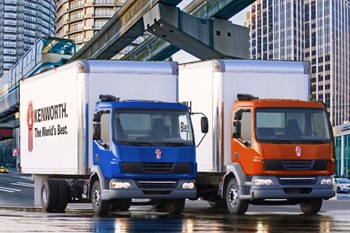 "Kenworth's excellent medium duty cabovers provide customers with a great choice of quality trucks that fit their applications," said Powell. "This year, we expect our cabover sales to increase further. We expect to see customers that run lighter trucks move to longer-lasting trucks with components designed to stand the test of time. The K270 and K370 will lower the total cost of ownership."

That was one reason why Peoria, Ill.-based Home Comfort Insulation purchased Kenworth cabovers for its operation.  "That, along with reliability of the Kenworth is what sold us on the K370," said Hans Schmidgall, a fourth-generation operations manager for the 65-year-old family-owned business.

"We run in some very tight areas, along with driving around in cul-de-sacs, so a cabover is what we need for our operation," said Schmidgall.  "Some of our other trucks have had a hard time staying out of the shop - they just don't hold up.  We've been very pleased with the Kenworth cabovers and they're very comfortable to drive.  All in all, we've been very happy."

Steve Ritchie, a Mississauga, Ont., warehouse manager for JFC - a food distributor, added, "Driving in downtown Toronto with its narrow streets and busy intersections with pedestrians crossing can be difficult and nerve-wracking.   So, we were looking for a cabover that offered what a conventional Class 7 truck could provide in loading capacity.  We found that with the Kenworth K370 and we've been pleased with its performance and the visibility and maneuverability it offers our drivers."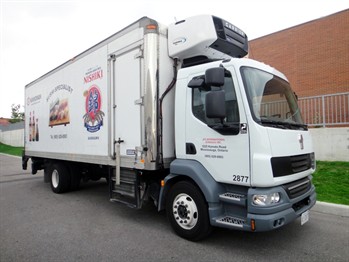 Available with wheelbases ranging from 142- to 242-inches, the K270 and K370 can accommodate bodies from 16- to 28-feet.  Both the K270 and K370 are powered by a 6.7-liter PACCAR PX-7 engine with a standard 220-hp rating and 520 lb-ft of maximum torque.   Optional ratings are 240-hp and 560 lb-ft of torque and 250-hp with 660 lb-ft of torque.  Both models are available with Allison 5-speed transmissions.

Inside, the truck accommodates bench seating for three. Its large 2,500-square-inch wraparound windshield combines with large side windows to give optimum visibility.  "Ample storage is also built-in," said Powell.  "And, like with our T270 and T370, the fit and finish is the highest quality.  They're great looking trucks, and ones that will stand the test of time."

Kenworth Truck Company is the manufacturer of The World's Best® heavy and medium duty trucks. Kenworth's Internet home page is at www.kenworth.com. Kenworth is a PACCAR company.