Kenworth Launches 2013 Kenworth Road Tour
Stars New Kenworth T880, Kenworth T680 52-inch Sleeper, and Tour Trailer Exhibits
Kenworth Truck Company today launched the 2013 Kenworth Road Tour. The tour takes the new Kenworth T880 vocational model and the Kenworth T680 on-highway model with the new mid-roof 52-inch sleeper on the road to special customer events hosted by 34 Kenworth dealerships across the United States and Canada before year-end.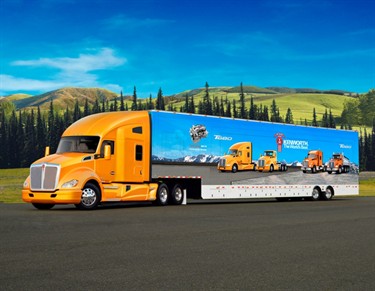 The Kenworth Road Tour opens Tuesday, Sept. 10, at MHC Kenworth in Kansas City, Mo.  The tour truck and comprehensive trailer exhibit will make stops at various Kenworth dealerships in Alabama, Arizona, California Colorado, Florida, Georgia, Kentucky, Louisiana, Michigan, Minnesota, New Jersey, New York, North Carolina, North Dakota, Oregon, Pennsylvania, Tennessee, Texas, Utah, Virginia, Washington and Wisconsin, and in the provinces of Alberta, British Columbia, Ontario, Saskatchewan and Quebec. (See the complete schedule below.)
"The brand new Kenworth T880 and Kenworth T680 52-inch sleeper configuration are the latest in Kenworth's outstanding line of quality and innovative trucks," said Alan Fennimore, Kenworth vocational marketing manager, who heads up the tour. "These two new models enhance Kenworth's 90-year, well-deserved and strong reputation of providing industry-leading trucks to our customers. We're excited to bring these most recent additions to The World's Best® product line - along with the fuel-efficient PACCAR MX-13 engine - to customers throughout the United States and Canada."
Kenworth has put together an interactive, self-guided exhibit housed in a state-of-the-art, double-expanding, 53-foot tour trailer. Customers will especially enjoy taking some time to learn more about the key features of both the T880 and T680, see the new 12.9-liter PACCAR MX-13 engine, and experience 90 years of Kenworth history.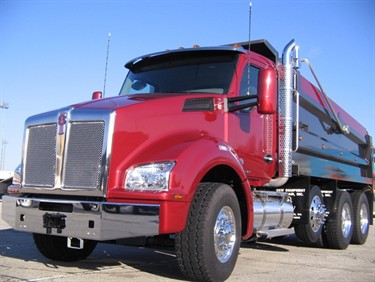 The new Kenworth T880, which sets an industry standard for vocational trucks, is designed to help maximize performance in such applications as dump, mixer, refuse, and heavy haul. Two T880s are featured on the tour.  The T880 dump truck has a standard 122.5-inch BBC hood and a PACCAR MX-13 engine rated at 500-hp and 1,850 lb-ft of torque. The T880 flatbed hauler features the 116.5-inch BBC short hood optimized for the PACCAR MX-13 engine. That truck's engine is rated at 455-hp and 1,650 lb-ft of torque. The PACCAR MX-13 engine offers excellent fuel efficiency, high reliability and durability, lightweight design, and low cost of ownership.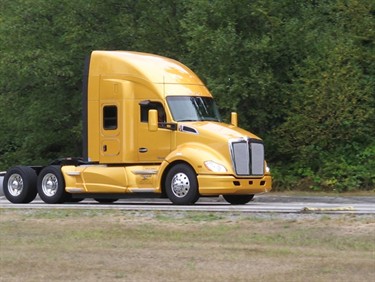 Transporting the 53-foot tour trailer exhibit is the T680 52-inch sleeper equipped with a PACCAR MX-13 engine rated at 500-hp and 1,850 lb-ft of torque. This new sleeper configuration joins the T680 day cab and T680 76-inch sleeper offerings. All are designed to maximize performance in line haul, pickup and delivery, and regional hauling operations. The mid-roof sleeper provides customers more options for fuel efficiency and a more comfortable living and working environment. That is especially important for fleets whose drivers are not out on the road for several weeks at a time, but still demand comfort in their trucks.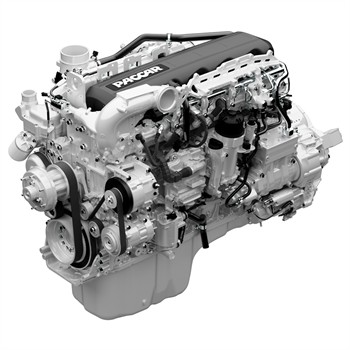 Inside, the Kenworth Road Tour trailer has nearly 1,000 square-feet of exhibit space. One side is dedicated to the vocational T880 and the other side to the on-highway T680. Visitors can examine the cab common to both models, new T880 hood, complex reflector headlamps, air-assisted hydraulic clutch, trim levels, exterior paint samples featuring 30 new Kenworth Signature colors and interior fabric options, new 52-inch sleeper, Kenworth NavPlus® system with Bluetooth capability for hands-free cell phone calling, and electric-over-air dash switches. There are videos featuring the design process for the T880 and T680, robotic cab construction, and Kenworth history - complete with a 90th anniversary wall and a display of Kenworth's other prestigious awards.
There is also a wall display of Kenworth's leading partner suppliers. Tour Partners for the T880 Road Tour include Bendix, Bridgestone, Chevron, Eaton, Hendrickson and Michelin.
KENWORTH ROAD TOUR SCHEDULE
Sept. 10: MHC Kenworth - Kansas City / Kansas City, Mo.
Sept. 12: MHC Kenworth - Denver  / Denver, Colo.
Sept. 16: Kenworth Sales Company - Salt Lake City  /West Valley City, Utah  
Sept. 18: Papé Kenworth - Portland  / Portland, Ore.
Sept. 19: Kenworth Northwest - Lakewood  /Lakewood, Wash.
Sept. 20: Inland Kenworth - Langley/Langley, B.C.
Sept. 23: GreatWest Kenworth - Calgary/ Calgary, Alb.   
Sept. 25: Edmonton Kenworth - Northside / Edmonton, Alb.
Sept. 27: Custom Truck Sales - Saskatoon / Saskatoon, Sask.
Sept. 30: Wallwork Kenworth - Fargo / Fargo, N.D.  
Oct. 2: Rihm Kenworth - St. Paul / St. Paul, Minn.
Oct. 4: Wisconsin Kenworth - Windsor / Windsor, Wis.
Oct. 7: Kenworth of Indianapolis / Indianapolis, Ind.
Oct. 9: Eastern Michigan Kenworth - Clinton Township / Clinton Township, Mich.    
Oct. 11: Kenworth of Buffalo / Buffalo, N.Y. 
Oct. 15: Kenworth Toronto / Mississauga, Ont.
Oct. 17: Kenworth Montreal / St. Laurent, Que.
Oct. 19: Gabrielli Kenworth of New Jersey - Dayton / Dayton, N.J.
Oct. 21:  MTC Kenworth / Ridgefield Park, N.J.
Oct. 23:  Kenworth of Pennsylvania - New Stanton / New
Stanton, Pa. 
Oct. 25: Truck Enterprises - Harrisonburg / Harrisonburg, Va.  
Oct. 28:  Worldwide Equipment - Abingdon / Abingdon, Va.                                                             
Nov. 4: NorCal Kenworth - Morgan Hill / Morgan Hill, Calif.
Nov. 6: Inland Kenworth - Fontana / Fontana, Calif.
Nov. 15: Inland Kenworth - Phoenix / Phoenix, Ariz.
Nov. 19:  MHC Kenworth - Dallas / Dallas, Texas
Nov. 22: MHC Kenworth - Oklahoma City  / Oklahoma City, Okla.
Nov. 25:  MHC Kenworth - Tulsa / Tulsa, Okla.

Dec. 2: Performance Kenworth - Houston  / Houston, Texas 
Dec. 4: Kenworth of South Louisiana - Gray / Gray, La. 
Dec. 6: Truckworx Kenworth - Birmingham  /Birmingham, Ala. 
Dec. 9: MHC Kenworth - Atlanta / Atlanta, Ga.
Dec. 11: Kenworth of Jacksonville  / Jacksonville, Fla. 
Dec. 13: MHC Kenworth - Greensboro / Greensboro, N.C.
Kenworth Truck Company is the manufacturer of The World's Best® heavy and medium duty trucks. Kenworth's Internet home page is at www.kenworth.com. Kenworth is a PACCAR company.