Kenworth 100th Anniversary Tour Trailer & Exhibit Shares Rich History
A Kenworth 100th anniversary-themed trailer and history exhibit is making its way across North America to commemorate Kenworth's milestone anniversary. The history exhibit will be on display at industry trade shows and community gatherings throughout 2023.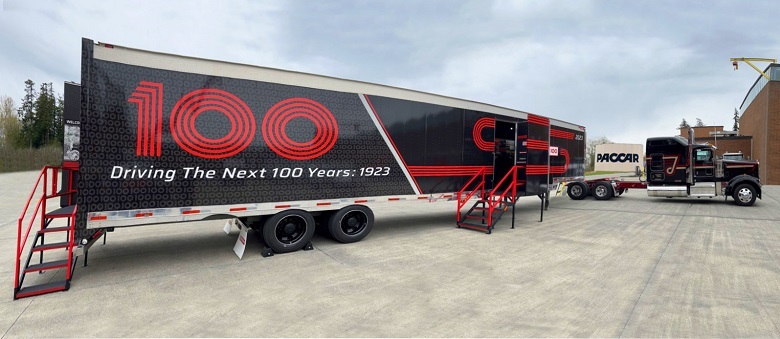 Kenworth 100th Anniversary History Trailer


The special trailer is a Great Dane 53-ft. step-deck van that features an extensive timeline of Kenworth's history, video presentations, vintage Kenworth badges, and more. Those that experience the historical exhibit will come away with an in-depth understanding of Kenworth's past and key developments that will help shape Kenworth's future.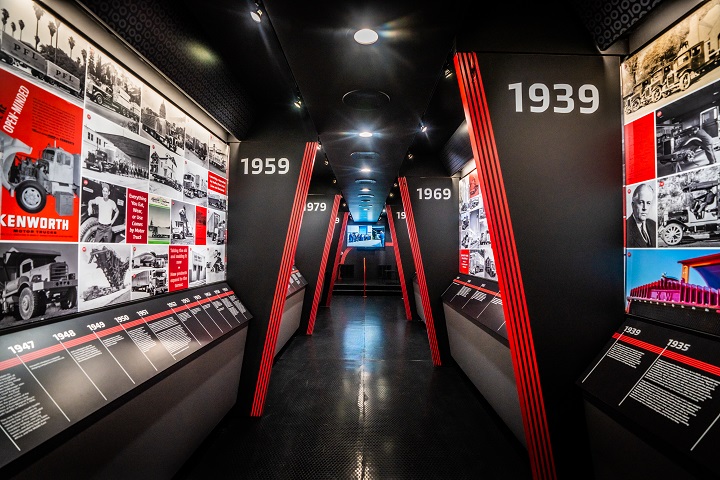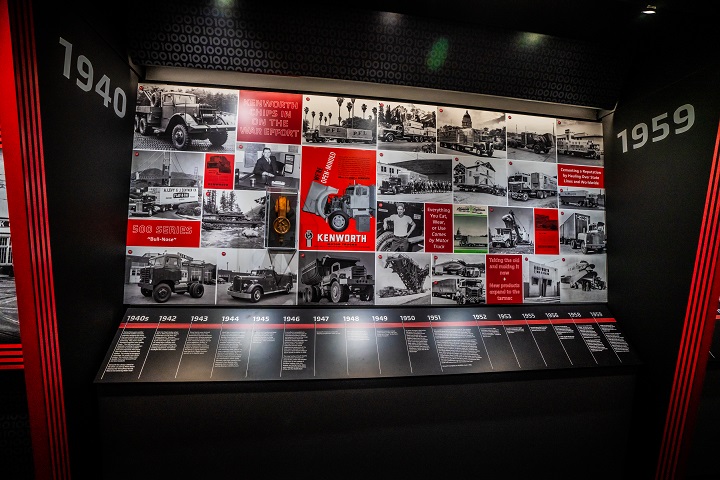 History Exhibits Inside the Trailer


The trailer used for this tour has a unique history of its own. It was previously used in Kenworth's 75th anniversary tour in 1998 before it was purchased by the late Allen Koenig, founder of Midwest Specialized Transportation. Prior to the tour in 1998, Koenig was asked to provide planning assistance and drivers for the tour.
Kenworth supplied Midwest Specialized Transportation drivers with a Limited Edition Anniversary W900L to haul its anniversary trailer throughout North America. Following the Kenworth 75th anniversary tour, Al Koenig purchased the special truck and trailer combination, which has remained in the Koenig family. Since then, the Koenig family has periodically showcased the trailer at truck shows and events so communities around the country can learn about Kenworth's history. In preparation for this year's anniversary tour, Kenworth re-connected with the Koenig family to restore the trailer and update the historical exhibit with new information about Kenworth's history.
"My dad loved trucks, especially Kenworths," Chris Koenig recalled. "He was a firm believer in the Kenworth product, which is why he only operated Kenworth trucks when he owned Midwest Specialized Transportation."
According to Koenig, Al was a serious truck history buff and once served as chairman of the America Truck Historical Society and held positions with the America Trucking Association and other trucking organizations to help preserve the history of the trucking industry. So when Kenworth approached him in 1998 about helping with Kenworth's 75th anniversary tour, the answer was 'absolutely.'
"From Kenworth plant tours, attending customer events, and getting to know Kenworth employees over the years, my dad grew a deep appreciation for Kenworth's rich history," said Chris Koenig. "He liked to collect truck memorabilia. When the Kenworth 75th anniversary tour ended, he wanted to own part of Kenworth's history through the truck and trailer combination and teach others about Kenworth's history."
"Our family relationship with Kenworth goes way back and it was exciting to have them reach out about using the trailer to pay tribute to its 100th anniversary this year. I know dad is looking down, smiling that the trailer is being put to good use to teach the younger generation about the history of the company he took so much pride in."
"We appreciate the Koenig family's passion for Kenworth trucks and allowing us to use and restore their trailer for this tour to celebrate our 100th anniversary," said Jim Walenczak, Kenworth assistant general manager for sales and marketing. "Their dedication to preserving Kenworth's history and sharing that with the trucking community is truly special."
The Kenworth 100th anniversary-themed trailer and history exhibit will be pulled by a T680 Signature Edition anniversary truck equipped with a 76-inch high-roof sleeper and the PACCAR Powertrain featuring a PACCAR MX-13 engine, PACCAR TX-12 automated transmission, and PACCAR DX-40 tandem rear axles. The trailer will be featured at the following public events, and more tour stops are likely to be added.
--June 8-10: American Truck Historical Society Convention, Reno, Nevada
--July 13-15: Walcott Truckers Jamboree at Iowa 80 Truckstop , Walcott, Iowa
--Aug. 24-26: Brooks American Truck Historical Society Show, Brooks, Oregon
--Sept. 26-29: Utility Expo, Louisville, Kentucky
Kenworth Truck Company, founded in 1923, is the manufacturer of The World's Best® heavy and medium duty trucks. Throughout 2023, Kenworth is celebrating its historic 100th anniversary. To learn more about the 100th anniversary celebration visit www.Kenworth100.com. Kenworth is "Driving the Next 100 Years." Kenworth's Internet home page is at www.kenworth.com. Kenworth is a PACCAR company.