CFI Team Drivers Ricky and Mary Norman Give T680 Next Generation High Praise
For CFI team drivers Ricky and Mary Norman, there's no place like the open road and traveling the country together in their new Kenworth T680 Next Generation.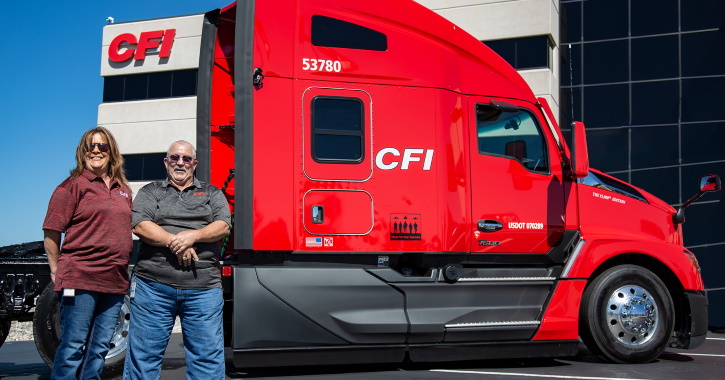 Drivers Mary and Ricky Norman - First CFI T680 Next Gen
"I feel like I'm being paid to be a tourist as a driver," said Ricky. "I've been to all 48 continental states and most provinces in Canada, something I'd be unable to do if I were in another profession. Mary and I love to travel the country, take in all the beautiful landscapes, and experience the diverse culture and food this country has to offer. We enjoy the over-the-road drivers' lifestyle."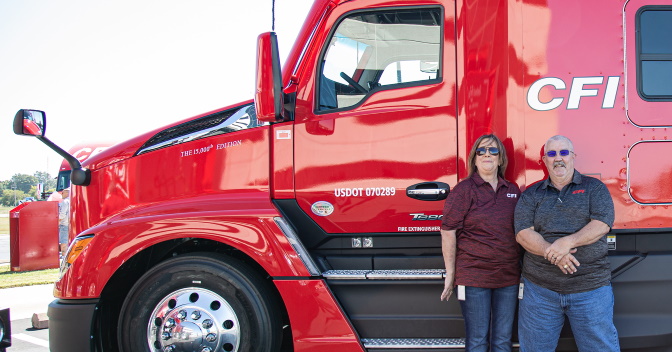 Last fall, the Normans were selected to receive the keys to CFI's first T680 Next Gen. That truck also served as the company's milestone 15,000th Kenworth and was purchased through MHC – Joplin, CFI's local Kenworth dealer. CFI also took delivery of its first Kenworth – a T600 – in 1985.
Ricky became a CFI driver in 1994, spending most of his time since driving Kenworth trucks. He started with the Kenworth T600 and has driven every Kenworth aerodynamic model since. Mary began her trucking career 12 years ago, joining Ricky as a CFI team driver and driving aerodynamic models, such as the T680 introduced in 2012. Combined, the Normans have driven more than 5.3 million miles for CFI and run 53-foot dry van trailers in truckload operations.
According to Ricky, he and Mary continue to drive for the company because of the way it treats its drivers. "It's like we're all a part of the family," said Ricky. "CFI truly values its drivers and does its best to accommodate their needs. Through the years, the company has remained family oriented. It's especially nice that they provide drivers with new, premium trucks so that we're comfortable on the road. They know the type of equipment they put drivers into matters."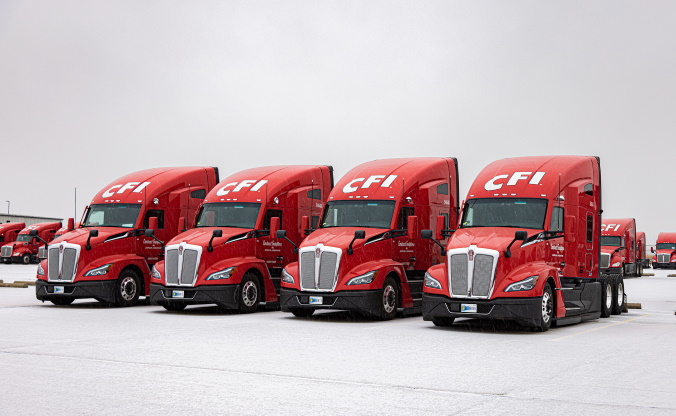 Since receiving its first T680 Next Gen, CFI announced plans to acquire 770 T680 Next Gens. "We continue to invest in our people with modern, fuel-efficient equipment, including options and accessories most in demand by professional drivers supporting safe operations and driver comfort," said Greg Orr, CFI president, previously noted in a company statement. "With these new units, the average age of CFI's tractor fleet will be less than 2 years."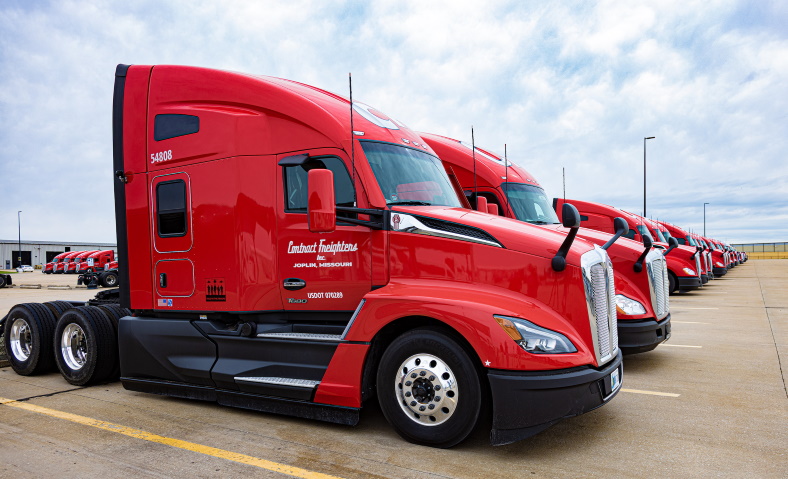 Working as a team, the wheels of the Norman's T680 Next Gen are always in motion. Mary drives during the day before Ricky takes over for the "night shift." The two have already put more than 123,000 miles on the truck's odometer and expect to eclipse approximately 240,000 miles after 12 months with it.
"The T680 Next Gen is everything its predecessor is and more," said Ricky. "We're pleased with the improvements, such as the new technology inside the cab. The redesigned look is really sharp and other drivers we cross paths with out on the road tend to agree. It looks great."
The Norman's T680 Next Gen with a 76-inch sleeper is equipped with a 605 hp engine and 12-speed automated transmission. Engineered to be more aerodynamic than its predecessor, Ricky and Mary are seeing a difference in fuel economy. With the cost of diesel recently hitting a record high, the fuel efficiency of a truck is more noticeable.
"We get excellent fuel economy with the Next Gen, and we drive through mountain ranges quite a bit since our route often takes us through the Rocky Mountains," said Mary. "Overall, we've noticed about a half a mile per gallon improvement in our T680 Next Gen compared to the T680 model we previously drove that was similarly specified. We see the difference at the pump."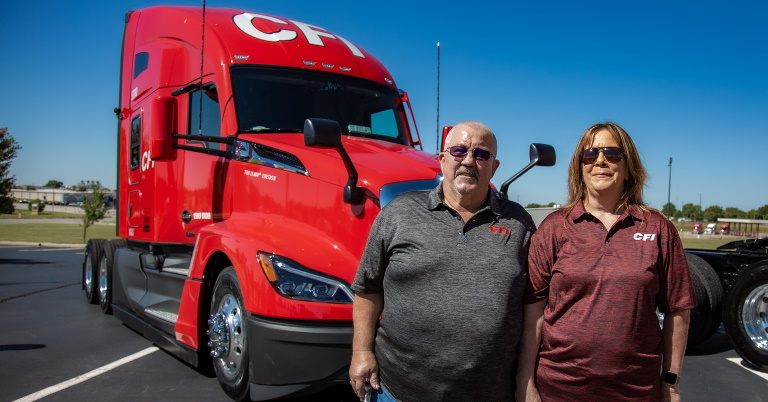 For Ricky, who's driven for more than 29 years, the evolution of trucks, especially when it comes to technology, has come a long way in improving the overall driving experience.
"Back in the '90s, manual transmissions were standard and there wasn't much to entertainment systems," Ricky recalled. "Nowadays, cabs are loaded with electronics that support driver safety and driving behavior, entertainment options, and truck information. It amazes me how far the electronics in trucks have come in my career."
According to Ricky, the addition of the 15-inch digital display in the new T680 is one of the technology upgrades Kenworth made that he's been impressed with.
"The picture is crystal clear," said Ricky. "With the display, we can customize the settings to show the gauges that we want to appear on the screen and find useful. It's easy to switch to different gauge settings that we create since they can be saved. It's a cool new feature."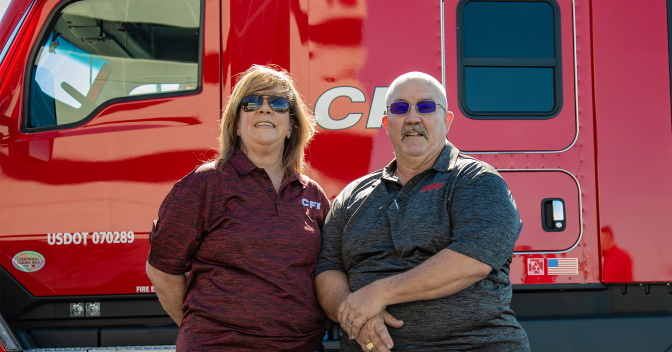 When you spend as much time on the road as the Normans, driver comfort is everything. From the quality of the interior, comfort and functionality of the seats and maximized sleeper storage space, Kenworth engineers' attention to detail about driver habits is what makes Kenworth trucks the most driver friendly truck on the market, according to Ricky.
"If the truck make doesn't start with a 'K,' I won't drive it," said Ricky. "I've yet to be in a truck that better matches my needs as a driver than a Kenworth. Quality and comfort are what I expect from them, and Kenworth has always delivered."
Kenworth is The Driver's Truck™. See what drivers are saying at www.kenworth.com/drivers.
Kenworth Truck Company is the manufacturer of The World's Best® heavy and medium duty trucks. Kenworth's Internet home page is at www.kenworth.com. Kenworth is a PACCAR company.