From Oil Patch to Over-The-Road, B&R Eckel's Succeeds with Diverse Fleet of Kenworth Trucks
First in Canada To Take Delivery of New Kenworth T680 52-inch Sleeper
"Walter" is its name, and it's a behemoth of a truck.  A 1978 Kenworth 953 - a six-wheel drive conventional capable of hauling loads in excess of 160,000 pounds.  It's a truck with more than 2 million miles under the hood; a truck that still moves oil rigs over the most treacherous off-road terrain the folks at B&R Eckel's can throw its way.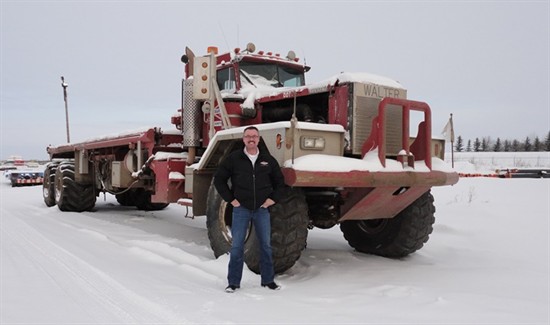 Darren Smith, fleet manager for B&R Eckel's with "Walter", the fleet's behemoth 1978 Kenworth 953.
"And it symbolizes why we run Kenworths," said Darren Smith, fleet manager for the Bonnyville, Alberta-based trucking company.  "Kenworths are tough.  They're durable, and at the end of their cycle with us, they can command a high resale value in excess of 20 percent more than a comparably spec'd truck."
Arguably one of the most diverse trucking businesses in Canada, B&R Eckel's is a privately held company that was founded in 1965 by Victor Ringuette, who still heads the company nearly 50 years later. Today, 55 percent of its loads are destined for oil fields, while 45 percent are general freight.  It operates 360 Class 6-8 tractors and has more than 1,100 pieces of additional equipment - including lowboys, flat decks, reefers and dry vans, and specialized oilfield hauling equipment.
Kenworth Vocational Trucks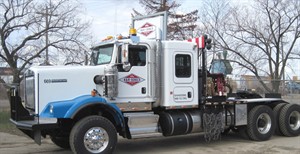 Kenworth C500
For the oil patch, mostly in Alberta and Saskatchewan, the company utilizes a mix of big and ultra-big tractors.  The majority is Kenworth equipment including the C500.  Many of the C500s are configured with 40,000-lb tandem steer axles.  Others feature tri-drive axles, powered by 550 hp engines, driven through 18-speed transmissions. 
"The C500 is our staple heavy rig mover, and it joins Walter in moving the biggest loads," said Smith.  "They're flatbed units with dual winches to haul aboard the oil rig drilling platforms.  To support those trucks we run a lot of Kenworth T800s and use them as picker trucks, or as winch tractors. 
"Going forward, we've seen the new Kenworth T880s, and we're fired up about putting those into our operation as well," said Smith. "It has the same bloodline as the T800, so we know it's a tough truck that can be spec'd the way we want it. The comfort of that truck is really something.  The reaction from our first driver of that rig was, 'wow, this is like driving a big car.  It doesn't feel like a truck at all.' "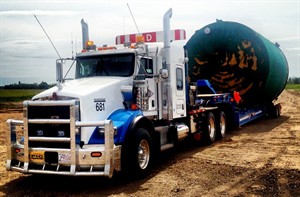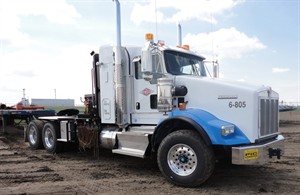 Kenworth T800s
Kenworth Over-The-Road Trucks
For the over-the-road fleet, Smith said the company has possible plans to standardize with the new Kenworth T680, which have been in operation as day cabs for the company in regional operations. 

The Kenworth T680 day cab is already proving itself in regional operations.  "In initial comments from our frontline operators we are extremely happy with the new model," Smith said. "The T680 day cab is equipped with a PACCAR MX-13 engine, rated at 500 horsepower, and our drivers are saying the engine pulls well - and has better overall power as compared to some of the other engines we run."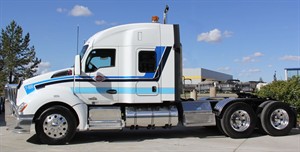 Kenworth T680 52-inch Sleeper
B&R Eckel's was also the first in Canada to take delivery of the new Kenworth T680 52-inch sleeper.  "We're using that model for longer haul runs and anticipate it may become our flagship truck," said Smith.  "But, the proof will be in the pudding - we capture all the data in life cycle costs from maintenance to fuel economy to resale value.  But we visualize that this truck could be our truck of choice.  Everyone builds a good truck, but that being said, Kenworth seems to fit the bill for us in every way.  The visibility, the comfort, the quietness of the truck is unmatched."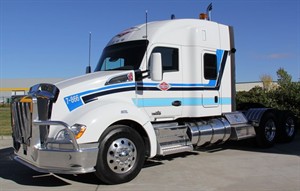 Kenworth T680 52-inch Sleeper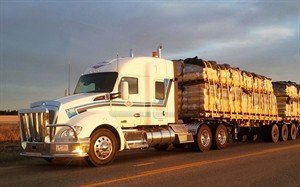 Kenworth T680 52-inch Sleeper
For its over-the-road fleet, B&R Eckel's has a trade cycle of 4.5 to 5.0 years, or 700,000 to 750,000 kilometers.  "One of the biggest keys in measuring life cycle costs of equipment is resale value," said Smith.  "And what we've seen with Kenworth, and what I've always known being involved in the industry for over 27 years, is that Kenworth commands a premium. We often get in excess of a 20 percent premium on the Kenworth equipment we sell over any other brand."
Kenworth Medium Duty Trucks
For local deliveries, Smith said the company utilizes Kenworth T370s.  "These are equipped with van bodies and are used for pickup and delivery," he said.  "They're working beautifully."
Committed to Service
According to Smith, B&R Eckel's is putting more equipment to work. "In the past three years, we've grown 20 percent and expect that trend to continue," he said.  "Like most trucking companies, we've had our share of hard times, but we're growing again and much of it has to do with our company's mantra that Victor and our employees live by: 'Committed to Service.'  It's something we truly believe in and we live and breathe that every day.  It's from the top all the way down and one reason I feel that our drivers and other employees stay with us.  We have many drivers that have been with us for 20-plus years."
Smith said B&R Eckel's not only delivers quality service, but looks for it as well.  "We certainly do, and we've been very pleased with the dealer support we've been given through Edmonton Kenworth and Kenworth Lloydminster. We feel they're second to none, and they help us keep our wheels turning."
Kenworth Truck Company is the manufacturer of The World's Best® heavy and medium duty trucks. Kenworth's Internet home page is at www.kenworth.com. Kenworth is a PACCAR company.