Kenworth T680 and T880 Now Available with Bendix SmarTire System
The Kenworth T680 and Kenworth T880 are now available with the fuel-saving SmarTire® Tire Pressure Monitoring System (TPMS) by Bendix CVS as an option when specifying these models.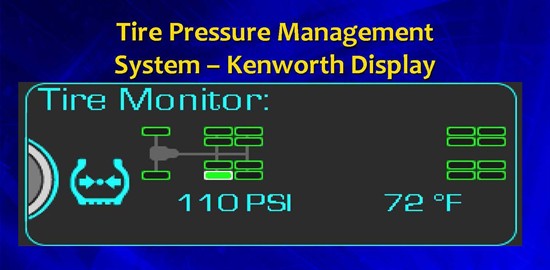 With the Bendix Tire Pressure Management System, Kenworth offers a special display for the T680 and T880 on the Kenworth Driver Performance Center 5-inch in-dash screen. The display operates when the truck is parked and features PSI and temperature for each tire. The system also supports super singles and trailer tires.
The factory-installed Bendix system uses wheel-mounted sensors in each tire to monitor the tire's pressure and temperature. Sensors are located on the steer and drive axle wheels. If tire pressure becomes too low, or tire temperature becomes too high, the system sends a signal to the driver via the dash display. Operating at recommended tire pressure is important for optimal tire life and fuel economy.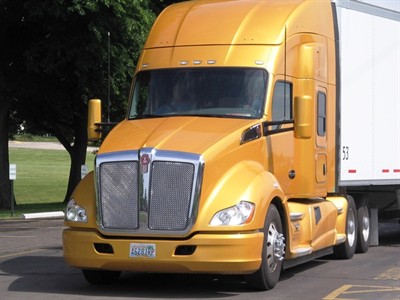 Kenworth T680
"Fleets and truck operators are becoming more proactive in addressing tire inflation as they strive to maximize each truck's fuel efficiency," said Kurt Swihart, Kenworth marketing director. "Now, with the Bendix system for the T680 and T880, they can take advantage of an easier, very efficient and time-saving way to regularly monitor tire pressure and temperature and gain enhanced tire life. The result can be less downtime and more money in their pocket."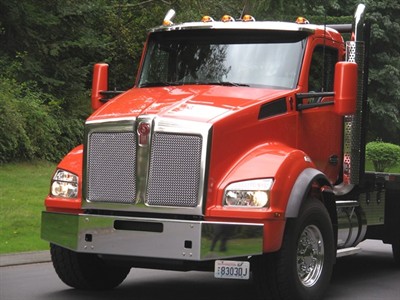 Kenworth T880
According to Bendix, a tire that is under-inflated by as little as 10 percent can result in a 1.5 percent drop in fuel economy, which may increase fuel spending by up to $1,000 per year for a single truck. Under-inflation by 20 percent results in a 30 percent reduction in tire life. A tire failure on the road due to improper tire inflation can also rack up large roadside assistance charges, depending on when and where they occur.
For more information call or visit a local Kenworth dealer, or visit www.bendix.com.
Kenworth Truck Company is the manufacturer of The World's Best® heavy and medium duty trucks. Kenworth's Internet home page is at www.kenworth.com. Kenworth is a PACCAR company.