Kenworth Adds Bendix Front and Rear Air Disc Brakes As Option for T370 Medium Duty Conventional
Offer Light Weight Design, Ease of Maintenance, and Superior Performance
Kenworth Truck Company announced that factory-installed Bendix® ADB22X™ front and rear air disc brakes are now available for new Kenworth T370 medium duty conventional trucks.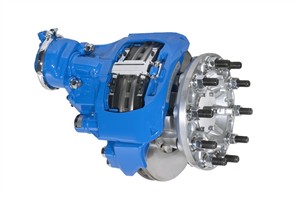 "Fleets and truck operators purchasing new Kenworth T370s can now benefit from the automotive-like feel, lightweight design, ease of maintenance and superior performance offered by Bendix front and rear air disc brakes," said Doug Powell, Kenworth medium duty marketing manager. "This new Kenworth option also offers extended brake change intervals, reduced stopping distance and weight reduction compared to drum assemblies."
 
The Bendix ADB22X air disc brakes have a two-pin floating caliper design that provides a more stringent overall dimension accuracy and consistent force distribution. According to Bendix, the ADB22X design also significantly reduces brake fade with no degradation of stopping power.
 
The air disc brakes are available for a single rear axle with a GAWR of 19,000 to 23,000 lbs. with Hendrickson HAS air suspension or dual rear axles with a GAWR up to 40,000 lbs. with Kenworth AG400L suspension. Front axle coverage includes 10,000 lb. and 12,000 lb. capacities.
 
In December, Kenworth announced that it was making Bendix® ADB22X™ front air disc brakes standard on its Class 8 tractors and trucks. The front air disc brakes were previously available as an option on Kenworth Class 8 models.
 
For more information about Bendix ADB22X air disc brakes, contact your Kenworth dealer or visit Bendix Spicer Foundation Brake at www.foundationbrakes.com.
 
Kenworth Truck Company is the manufacturer of The World's Best® heavy and medium duty trucks. Kenworth's Internet home page is at www.kenworth.com. Kenworth is a PACCAR company.