Kenworth Makes Bendix Front Air Disc Brakes Standard on Class 8 Trucks
Offer Superior Performance, Ease of Maintenance, and Light Weight Design
Kenworth Truck Company announced it will make Bendix® ADB22X™ front air disc brakes standard on Kenworth Class 8 tractors and trucks.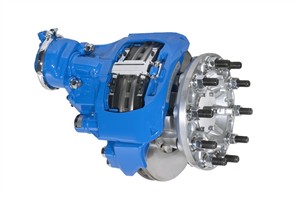 The Bendix ADB22X air disc brakes have a two-pin floating caliper design that provides a more stringent overall dimension accuracy and consistent force distribution.  According to Bendix, the ADB22X design also significantly reduces brake fade with no degradation of stopping power. Bendix recently marked the production of its 500,000th ADB22X air disc brake.
"We've offered Bendix air disc brakes as an option on our Class 8 trucks previously. Customers appreciate their superior performance, car-like feel, ease of maintenance, and light weight design, while they also exceed the federal government's RSD (reduced stopping distance) requirements," said Kurt Swihart, Kenworth marketing director. "These benefits are so compelling that Kenworth decided to make air disc brakes standard on Kenworth Class 8 trucks. For additional weight savings, the air disc brakes also come standard with an aluminum hub and splined disc rotor assembly."
For more information about Bendix ADB22X air disc brakes, contact your Kenworth dealer or visit Bendix Spicer Foundation Brake at www.foundationbrakes.com.
Kenworth Truck Company is the manufacturer of The World's Best® heavy and medium duty trucks. Kenworth's Internet home page is at www.kenworth.com. Kenworth is a PACCAR company.