Kenworth and PACCAR Assembly Plants Carry on Kenworth's 90-Year Tradition of Quality and Innovation
Many things have changed at Kenworth's manufacturing plants since the Kirkland, Wash.-based company built its first trucks in 1923. But one thing that has remained constant during the company's 90-year history - the quality and care that goes into the assembly of every Kenworth truck.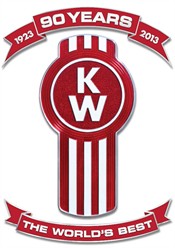 Today, Kenworth trucks are built at assembly plants in Renton, Wash., Chillicothe, Ohio, and Ste. Therese, Quebec, and are available with PACCAR MX-13 engines assembled at the PACCAR Engine Company plant in Columbus, Miss.
"Talk to any of the employees at our assembly plants and the one thing you will hear over and over is how much they care about the work they do," said Daryl Simon, Kenworth assistant general manager for operations. "Our employees understand that they carry on Kenworth's tradition for building trucks with the highest quality. They also take great pride in having built many Kenworths for the same loyal, repeat customers over the years."
Kenworth's long-term success in the trucking industry can be traced back to a philosophy established early in the company's history. "The vision was to build the right Kenworth truck for each customer's application…and build that truck to last," said Simon. "That philosophy continues to this day and has resulted in Kenworth producing high-quality, durable trucks that feature innovative design and state-of-the-art technology."
Kenworth's Assembly Plant in Seattle - 1923
The care that employees take today in building the company's two newest models - the Kenworth T680 and the Kenworth T880 - began with the assembly of 1-ton, 2-ton and 3-ton chassis at Kenworth's first assembly plant in Seattle where trucks were stall built. That first year, Kenworth produced 78 six-cylinder, gasoline-powered trucks. Today, in celebration of Kenworth's 90th anniversary, a 1924 Kenworth truck built in Seattle and on special loan from PACCAR is now on display (below) a short distance away at the Museum of History and Industry (MOHAI). In total, Kenworth now has built more than 900,000 trucks in its 90-year history.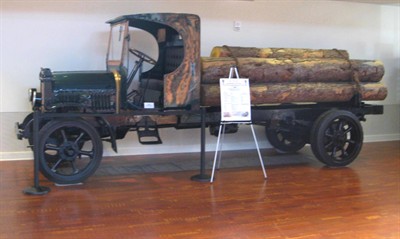 Yale Avenue and Mercer Street Plant in Seattle - 1929 - 1946
Growing demand for Kenworth trucks, especially from the logging industry, led to the construction of a brand new, 30,000 square-foot Kenworth factory. Four times the original plant's size, the new facility was located at 1263 Mercer St., near the corner of Yale Ave. and Mercer in Seattle's South Lake Union district. During the 1929 grand opening ceremony, Seattle Mayor Frank Edwards (below) was on hand to cement a commemorative cornerstone into the exterior brickwork of the factory.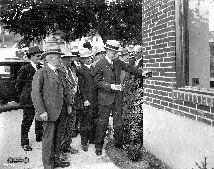 Through the 1930s, Kenworth assembled new trucks for public agencies and motor coaches for bus companies and refurbished older Kenworth trucks.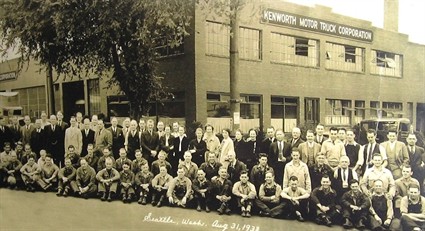 Kenworth plant employees are shown in a 1938 group shot at the Kenworth Mercer Street plant in Seattle.
The Seattle plant supported America's World War II effort as the predominantly female workforce produced parts for the Boeing B-17 Flying Fortress and B-29 subassemblies, and assembled trucks for civilian use. Kenworth also built the M-1 wrecker, a six-wheel drive truck for the U.S. Army that was customized for extreme duty and heavy lifting. A crane mounted on its chassis had fore and aft winches for retrieving tanks from deep mud or shell holes. In late 1942, orders for 1,500 M-1 wreckers taxed the plant's capacity.
"That's when Kenworth helped increase productivity by replacing its traditional stall-built method of assembly and implemented a moving production line going through the various assembly, paint and inspection stations. It was the early forerunner of the production system  our plants use today to produce quality Kenworth trucks," said Simon.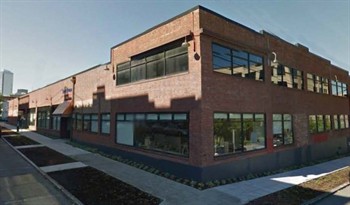 Today, that 1263 Mercer St. building (above) - now owned by The Blume Company - still stands and is used, in part, by Bright Horizons Family Solutions® as a child care facility.
East Marginal Way Assembly Plant in South Seattle - 1946 - 2001
On March 3, 1946, the first truck rolled off the assembly line at Kenworth's new plant at a 13-acre facility on East Marginal Way south of Seattle. Kenworth quickly made a successful transition from military to commercial markets, and responded to pent-up demand as it had become impossible for companies to buy trucks during the war.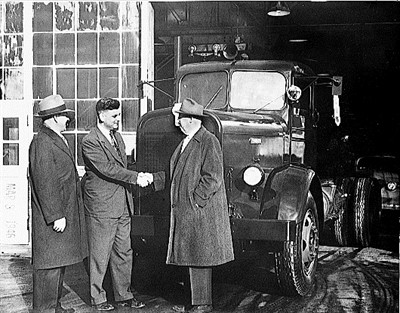 From left, Kenworth General Manager John Holmstrom, Chief Engineer Murray Aitken and Chief Salesman Vernon Smith celebrate the production of the first truck in Kenworth's new facilities at East Marginal Way in South Seattle on March 3, 1946.
"The new plant was much larger and offered the opportunity to create new manufacturing systems to maximize quality and efficiency. For example, a chain conveyor production line extended the length of the structure," said Simon, who noted that the facility was later expanded to 26 acres in the 1960s. "This Seattle plant (below) and its employees produced The World's Best® trucks for more than 50 years - quite an accomplishment," said Simon.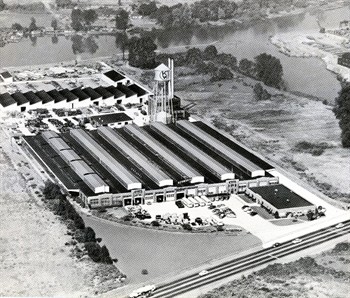 Kenworth Chillicothe Plant - 1974 to Present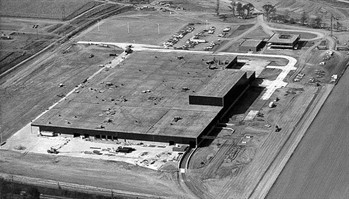 In 1974, Kenworth opened a 300,000 square-foot plant on 120 acres in Chillicothe, Ohio. Cabs were made and trimmed at Kenworth's facility in the Seattle area and then shipped by rail car to Chillicothe. As production ramped up, the Chillicothe plant's employees made and trimmed the cabs.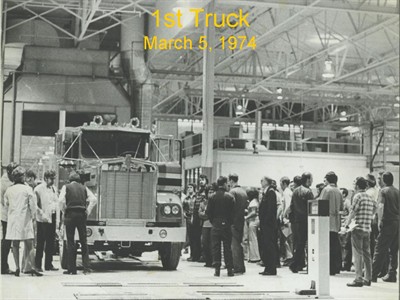 In 2005, the Chillicothe plant celebrated the production of its historic 250,000th truck (below). A year later, it earned national recognition as Quality Magazine's "Plant of the Year" in the large plant category of over 250 employees.

A major, two-year renovation project, completed several years later, increased the plant's size by nearly one-third and build capacity by 50 percent while adding new technologies, such as a highly automated paint system. The expansion project introduced new manufacturing technologies and processes, extended Chillicothe's mainline; added new cab, sleeper, trim lines; enhanced ergonomics; and included exciting advancements in plant logistics. As a result, Kenworth-Chillicothe became one of the most advanced truck plants in the industry.
In 2012, a state-of-the art robotic cab assembly cell was added to build the 2.1-meter wide cab for the Kenworth T680 and new Kenworth T880.
Since 1974, the Chillicothe plant has produced more than 410,000 trucks. The facility produces a broad range of Class 8 trucks, including the T660, T680, T800 and W900 and soon, the T880, with an eye toward efficiency and environmental stewardship, while meeting customer expectations.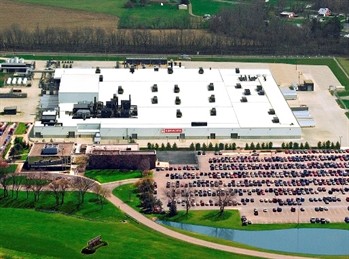 "Chillicothe plant employees are well-versed in lean manufacturing," Simon said. "The concept of lean manufacturing is a team-based method of continuous process improvements based on customer requirements. Employees work in small teams empowered to identify opportunities for improvement in the assembly process. This team approach helps the plant produce The World's Best® trucks."
The Chillicothe plant has earned prestigious ISO 14001:2004 certification for effective environmental management systems and received the prestigious Global Six Sigma award for Best Project Achievement in the Health, Safety and Environment category.
Kenworth Renton Plant - 1993 to Present
In 1993, Kenworth opened a new 300,000 square-foot plant on a 40-acre site in Renton, Wash. The plant's first truck (below), a Kenworth T600B, a later version of Kenworth's first aerodynamic truck that revolutionized the trucking industry, went to work for Stevens Transport.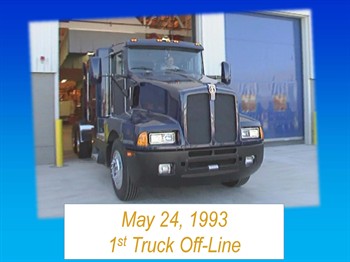 "When completed, the Renton plant was considered one of the most efficient in the industry with innovative insulation and lighting systems, and the latest in paint technology, ergonomic assistance, and environmental monitoring and control systems," said Simon.
In 2000, Fortune magazine recognized the Renton plant as one of "America's Elite Factories", and received Assembly Magazine's inaugural "Assembly Plant of the Year Award" in 2004. A year later, the Renton plant had the honor of producing the 700,000th Kenworth truck in company history.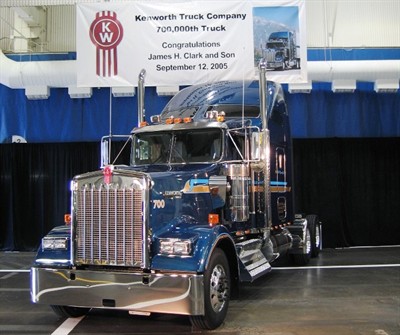 The Renton Plant holds ISO 14001:2004 environmental management systems certification, and numerous Best Workplace for Waste Prevention and Recycling Awards from the King County (Wash.) Solid Waste Division and Gold Awards from the King County (Wash.) Industrial Waste Program. The plant has now received the Gold Award every year for 14 consecutive years.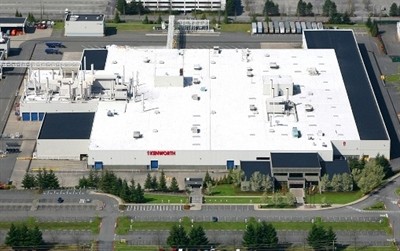 In 2013, Kenworth-Renton celebrated its 20th anniversary. The plant has produced more than 130,000 Kenworth trucks, and currently produces Kenworth's T660, T800, W900, C500, K500 and 963 models along with some medium duty Kenworth T370s and T440s. Nearly half of the plant's current employees have been working for Kenworth since the plant opened in 1993.
"Our employees have played a key role in the plant's success with quality, pride and technology going into every Kenworth truck that is produced there," said Simon. "And Kenworth-Renton continues the company's amazing legacy of making trucks in the Seattle area for the past 90 years."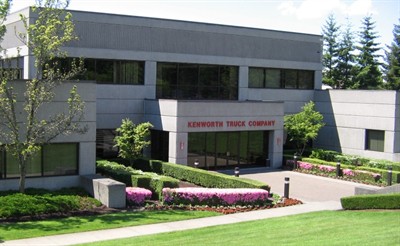 PACCAR Ste. Therese Plant, 1999 to Present
In 1999, with an eye toward improving the assembly of medium duty Kenworth trucks, PACCAR opened an all-new, 425,000 square-foot state-of-the-art truck manufacturing facility in Ste. Therese, Quebec, near Montreal.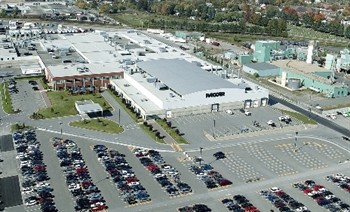 "The employees at the PACCAR Ste. Therese plant are especially dedicated to building excellent medium duty trucks. Every truck we build at Ste. Therese is assembled with leading-edge technology. The result is world-class, quality trucks recognized throughout the industry for their excellent reliability, low operating cost and high resale value," said Simon.
Employees at the Ste. Therese plant assemble Kenworth's T170, T270 and T370 medium duty trucks. The Ste. Therese plant has earned prestigious International Standards Organization (ISO) 14001:2004 certification for effective environmental management systems, IS0 9000 quality assurance certification, and OHSAS 18001 health and safety certification.
In 2007, the PACCAR plant in Ste. Therese, Que., was named "Business of the Year" and received the Human Resources award in the large business category at the 27th edition of the Mercuriades competition. The competition is sponsored by the Quebec Federation of Chambers of Commerce to celebrate outstanding achievements of Quebec businesses that distinguish themselves by their excellence.
Just 12 short years after the planted opened, a Kenworth T370 was recognized as the historic 100,000th medium duty truck (below) produced at the manufacturing plant.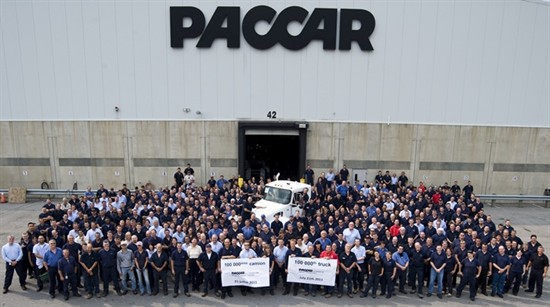 PACCAR Engine Plant, 2009 to Present
"PACCAR wants customers to not only have full confidence in their Kenworth trucks, but also in the engines that power them," Simon said.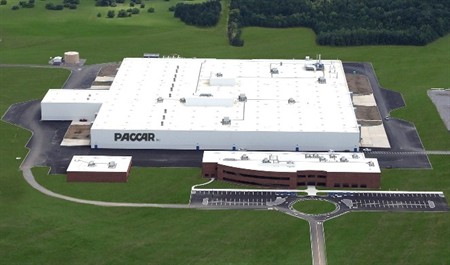 In 2009, PACCAR completed a new engine manufacturing plant and technology center at a 400-acre site in Columbus, Miss. The 420,000 square-foot plant (above), which Simon calls the most technologically advanced diesel engine manufacturing facility in North America, began full assembly of the 12.9-liter PACCAR MX engine at the end of 2010. Today, the PACCAR Engine plant produces the PACCAR MX-13 (below) engine, which is standard in Kenworth's heavy duty trucks.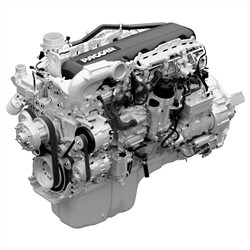 "The PACCAR engine plant features advanced computer-controlled tooling in both machining and assembly processes. This provides extremely close tolerances in all operations and results in reliable, long lasting engines with industry-leading performance and design life," Simon said.
"Throughout the years, Kenworth and PACCAR have never shied away from investments in new facilities and equipping them with the latest technology," Simon added. "Today, these facilities allow Kenworth to offer customers premium trucks built to exacting standards with reliable, high-performance PACCAR engines. The skill of long-time employees and their willingness to develop and adopt new technologies also plays a key role in Kenworth's success at building quality premium trucks for our customers."
Kenworth Truck Company is the manufacturer of The World's Best® heavy and medium duty trucks. Kenworth's Internet home page is at www.kenworth.com. Kenworth is a PACCAR company.